Dispatch of injured smooth
amid 'battlefield' conditions

"Actually getting people out of the wreckage is just the first phase of a big operation which then sees important tasks carried out by a host of other formations," said Airport District Commander James Wong Ka-sing, who acted as Field Commander during the emergency.

He said there were several phases to such an operation including the rescue, accounting for passengers, and their treatment, which included transfer to ambulances and safe areas.

"Much of the initial rescue had been completed by the time I got to the scene, but we were still very busy getting people to safety or to hospital. It took time because there was such a large number of people to move and we had to make sure nobody was missing - stuck inside the aircraft or wandering around the airfield or whatever. Plus the conditions were very difficult and the place looked like a battlefield," Mr Wong said.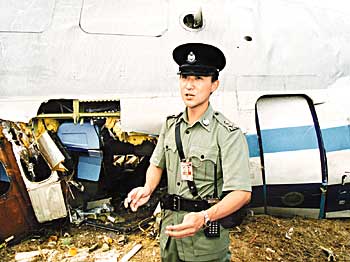 In control: IP Leung Ka-man calmed and assisted cold and frightened survivors

"So another important job was for us to support the Fire Services Department by controlling traffic and ensuring fire trucks and ambulances arrived and departed unimpeded. Our Traffic people did a really good job with that."

Assistance not only came from Traffic New Territories South, but also Police Tactical Unit officers from the Region who sped to the scene immediately.

At the Apron Passenger Vehicle Lounge (South), Airport District Investigation Team and Uniform Branch duties assisted in crowd control duties. They checked their identities and performed first aid.

A large number of passengers also gathered at the passenger terminal as the airport was closed after the incident.

NTS Emergency Unit officers were deployed to maintain order as emotions flared among some stranded passengers. And officers of several Districts were sent to assist at the six hospitals. "It has been the biggest accident at the new airport so far but we will always be ready. Training helped us a lot physically and mentally, but with this incident we have also learned a lot," Mr Wong said.

Uniform Branch officers were among the first formations at the crash site and immediately assisted the injured and weary survivors as rescue work continued.

Airport District Patrol Sub-Unit Commander Inspector Leung Ka-man said: "Some passengers had already left the plane, however they were all scared and some were running around aimlessly. Injured passengers were also in pain. We calmed them and led them to safety."

"Apart from maintaining order, the UB officers at the scene also rushed to the burning plane to assist in the rescue.

"Officers all tried their best to assist," IP Leung said.