Force supports Summer Safe Cycling Campaign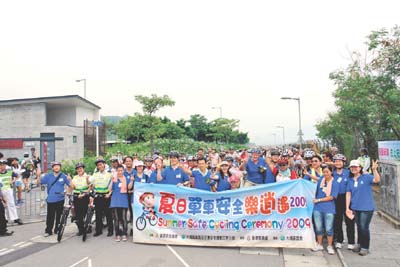 Guests, cyclists and officers spreading safe cycling messages on the Tolo Harbour Cycling Track
July 18 turned out to be one of the hottest days of the year, but it was a match for the atmosphere of the Summer Safe Cycling Ceremony 2009 held at the Amphitheatre of Tai Po Waterfront Park.
The event was jointly organised by the Road Safety Council and the Working Group on Tai Po Road Safety Campaign, Tai Po District Council (TPDC), with the support of Traffic Branch Headquarters (TBHQ). Officiating at the event were Chairman of the Road Safety Campaign Committee, Mr Yu Kam-kee; Chairman of the Traffic and Transport Committee, TPDC, Mr Man Chen-fai; Chairman of the Working Group on Tai Po Road Safety Campaign, TPDC, Mr Chan Cho-leung; Tai Po Assistant District Officer, Mr Lai Tsz-hin; Regional Commander of Road Safety Patrol (RSP), New Territories North, Mr Lau Kwong-hing; Traffic Branch Headquarters Chief Superintendent Mike Demaid-Groves; New Territories North Traffic Senior Superintendent Ng Wing-kai, and Tai Po Divisional Commander Choy Wai-fu.
The event attracted about 300 participants, including members of local cyclists' associations, Junior Police Call (JPC) and RSP, as well as local residents. Following a symbolic kick-off ceremony was an introduction of cycling safety equipment by Asian Games Cycling Medalist Alan Ho Siu-lun and his team; live performances by Road Safety Ambassadors KellyJackie Chan and Lam Chi-mei, and magic show by a retired police officer, Mr Liu Chi-man. The highlight of the event was an acrobatic cycling show by Police Inspector Yu Sum-yee, reigning champion of the Hong Kong Acrobatic Cycling Tournament.
The second part of the ceremony was a bicycle parade on the Tolo Bay cycling track, led by Mr Demaid-Groves and composing of members of various cycling associations, JPC and RSP. The publicity activities were conducted along the route, including a relay symbolising the continued effort of promoting cycling safety in Hong Kong.
The event was the prelude to the Summer Safe Cycling Campaign 2009,which started on July 20 and finished on August 2.
Partnership in road safety
TBHQ has assisted the Road Safety Council (RSC) in developing a partnership programme with Wilson Parking Ltd to deliver road safety messages to motorists. Through the partnership, anti-drink driving and other publicity posters have also been on display in over 200 Wilson carparks since February this year.
The "Let's be smart drivers!" lucky draw, the latest joint-publicity programme organised by RSC and Wilson Parking Ltd, started on July 1, with the aim of promoting awareness of safe driving among motorists. Application packages for the lucky draw, each consisting of safe driving publicity leaflets supplied by TBHQ and other items, are being distributed to patrons of carparks of the parking company. To qualify for the lucky draw, applicants are required to provide correct answers to three road-safety-related questions, as well as to undertake to support safe driving.
Statistics show that over the past five years, private car drivers have accounted for an average of 34 per cent of all the traffic accidents involving injuries. Unlike other transport trade drivers, private car drivers have no organisations to co-ordinate road safety lectures and educational activities for them. Therefore, the partnership with the company provides a platform for delivering messages on road safety and proper driving behaviours to private car drivers.
Road safety promotion for elderly
Road safety is one of the Commissioner's operational priorities. Promoting road safety among elderly pedestrians is one of the emphases of Traffic Branch.
The policy of giving verbal warnings to elderly pedestrians for blatantly contravening offences has been stepped up since the end of last year to enhance their safety through education, publicity and enforcement.
Between June 25 and July 8, a two-week territory-wide pedestrian safety campaign was held to educate pedestrians, in particular senior citizens, on the safe measures of crossing roads. With the help of the senior members of the RSP, officers from regional road safety teams distributed publicity leaflets at numerous locations across Hong Kong, including traffic accident black spots where the elderly can be easily found. During the operation, 23,309 leaflets were distributed at 735 locations.