Sham Shui Po Elderly Pedestrian Road Safety Campaign Kick off Ceremony cum Bus Parade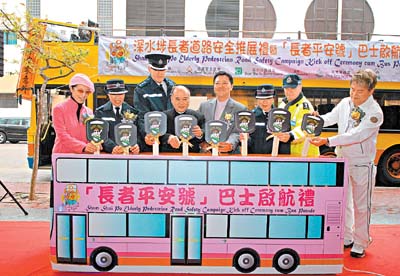 The "Safe-ride for the Elderly" bus starts off immediately after a brief ceremony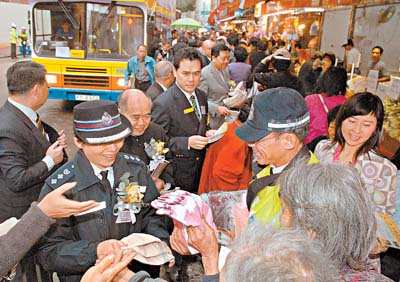 Guests of honour and officers hand out copies of a road safety leaflet at various locations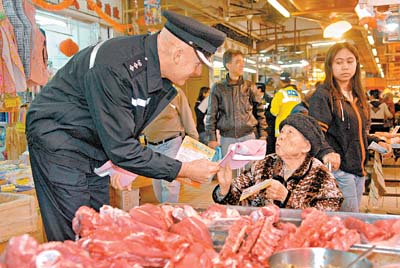 Chief Superintendent Michael Demaid-Groves hands out road safety leaflet to an elderly shopper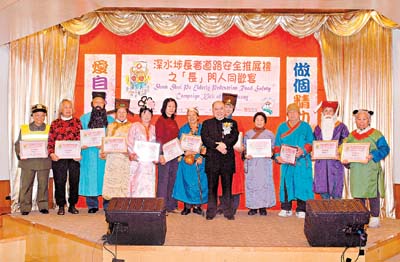 The elderly lend support to the road safety drive by staging a Cantonese opera to drive messages home to their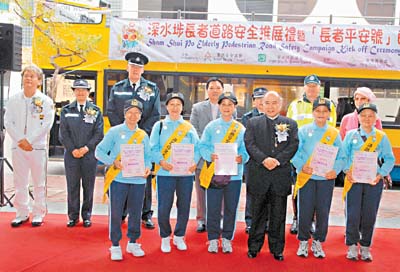 Other elderly lend support as "Road Safety Ambassadors"
The Road Safety Council (RSC), Sham Shui Po District Council and Traffic Branch Headquarters are concerned with the awareness of road safety among the elderly. In a bid to drive road safety messages home to this vulnerable group, these three parties jointly kicked off a publicity campaign for elderly pedestrians on March 6.
The opening ceremony was held outside the Lei Cheng Uk Plaza in the presence of a large number of members of the RSC, Sham Shui Po District Council and Road Safety Patrol, as well as senior road safety ambassadors and Sham Shui Po residents. Officiating at the ceremony were Chairman of the Road Safety Campaign Committee, Mr Yu Kam-kee, Chief Superintendent Michael Demaid-Groves from Traffic Branch Headquarters, Sham Shui Po District Commander Pauline Ng, Senior Superintendent Shirley Chu from Traffic Branch Headquarters, Senior Superintendent of Traffic (Kowloon West) Martyn Rees, Sham Shui Po District Councillor, Mr Lam Ka-fai, and Road Safety Ambassadors Ms Tse Suet-sum and Mr Chan Pak-cheung.
Immediately after the ceremony, all the guests and ambassadors boarded the "Safe-ride for the Elderly" bus to go to traffic black spots to hand out publicity leaflets and souvenirs to elderly residents. Despite overcast skies, the party was greeted by passionate crowds.
The guests finally headed for the Police Sports and Recreation Club for a lunch with over 300 senior citizens from elderly centres. During the lunch, messages on road safety tips and compliance with traffic rules were driven home through a road safety quiz, Cantonese opera singing by Road Safety Ambassadors and a comedy performed by the elderly.
The main objective of this publicity activity was to reduce traffic accidents involving the elderly by raising their awareness of road safety. Emphasising the importance of this initiative, Mr Yu said that last year Sham Shui Po had the highest traffic accident casualty figure involving people over 60 years of age. "But I believe that, with education, publicity and support by various agencies and other road users, the figure can be reduced," he noted.
Following the opening ceremony was a territory-wide pedestrian road safety campaign conducted from March 6 to 19. During the first week, officers from Regional Road Safety Teams and members of the Road Safety Patrol distributed educational leaflets at pedestrian black spots. Stringent enforcement action was taken in the second week, adopting a three-pronged approach embodying publicity, education and enforcement.