Visit to PDU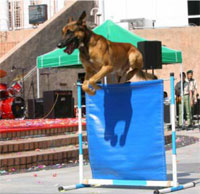 Apart from undergoing training and performing their daily duties like patrols and searches, police dogs also take part in community and public relations events like District Fight Crime Carnivals and Crime Prevention activities, to engage the community. Police Dog Unit Headquarters at Sha Ling accept Application for visit from Non-profit Making and/or Charitable Organisation so as to let visitors have a closer encounter with police dogs and to understand more about their training and kennels facilities.
Application form (PDF format)
Q1.
What are the criteria and restriction in applying to visit Police Dog Unit?
A1.

Police Dog Unit would ONLY accept the application from Schools (tutorial centres excluded), Non-profit Making Groups and Charitable Organisations (property owners incorporation, company staff associations etc. are excluded);
Visitors not exceeding 30 in a group (Driver not counted);
Age 8 or above with ability to take care oneself;
If a group has already visited Police Dog Unit, application from the same group will not be accepted in the next 12 months;
With effect from September 2012, the visiting schedule will be on Tuesdays from 10:00 am to 12:00 noon except public holidays.

Q2.
How to apply for a visit?
A2.
Applicants may download application form in this Police Dog Unit webpage and send to Police Dog Unit Headquarter by fax or mail. On receiving the application, Police Dog Unit will acknowledge receipt of the application by telephone with a reference number issued for future enquiry.
Q3.
When should I apply for the visit? When will I be informed of the result?
A3.
Applicant may apply for the visit three to six months before the visit date.

Police Dog Unit will draw lots among the applications in the middle of every month for visits two months later. For example, the Unit will draw lots in January for visits in March, so on.
Successful application will be informed verbally by telephone followed by letter via fax;
An applicant can opt for three visit dates per application. If all three dates' time slots have been allocated to other groups, the applicant will be informed by letter via mail.

Q4.
Can an organisation apply again after it has already visited Police Dog Unit?
A4.
There are large number of applications and Police Dog Unit would like to allow more groups the chance to visit us. If a group has already visited Police Dog Unit, application from the same group will not be accepted in the next 12 months.