Forty citizens who helped the Police fight crime were presented with the Good Citizen Award (GCA) at a presentation ceremony on June 12.
Speaking at the ceremony, Director of Operations Wong Chi-hung pointed out that the Force did not fight crime on its own and that support and co-operation from the community and the public were indispensable. He said Police-community partnership had been extended to various sectors, citing Junior Police Call and the newly established Senior Police Call as good examples.
He urged members of the public and the community to continue to join hands with the Police to safeguard public safety and order so as to maintain Hong Kong as one of the safest and most stable societies in the world.
The Chief Executive Officer of the Hong Kong General Chamber of Commerce (HKGCC), Ms Shirley Yuen, said HKGCC supported Police-community partnership in maintaining law and order. The Chamber had been the sole sponsor of the GCA scheme, which commended members of the public who stood up for justice and took the initiative to assist the Police in fighting crime. Aiming to promote the spirit of courage and make Hong Kong a better society, HKGCC would continue to support the scheme.
Fight Crime Committee member, Ms Wong Mee-chun, noted that with the continuous development of Hong Kong, the modus operandi of crimes had become multifarious. Nevertheless, Hong Kong remained one of the cities with a low crime rate. Apart from the outstanding performance of the Force, Ms Wong said the mutual trust and co-operation between the Police and the community also contributed to the achievement.
With the help of the awardees, more than 30 persons were arrested for a variety of offences, including indecent assault, theft, robbery and wounding. Each of them received a certificate and a cheque for $3,000.
Presented twice a year, the GCA is organised by the Police Public Relations Branch and sponsored by HKGCC. More than 3 900 persons have been commended over the years.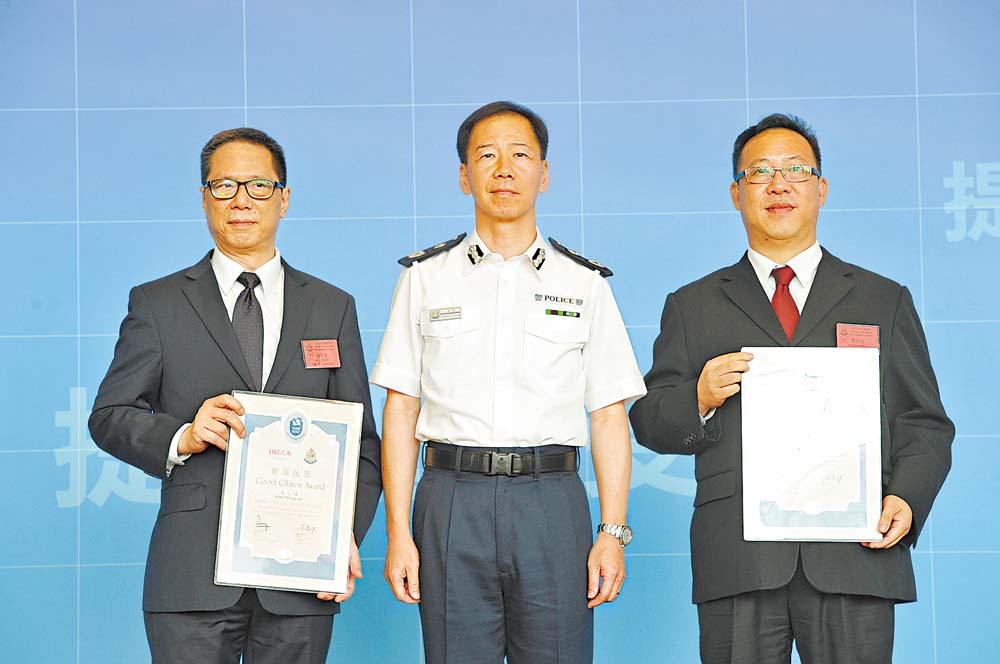 Mr Cheung Lap-yee, a retired Sergeant and now an estate security guard (right) and his colleague, Mr Koon Sze-kueng, subdued one of their colleagues, who was attacking another colleague with a knife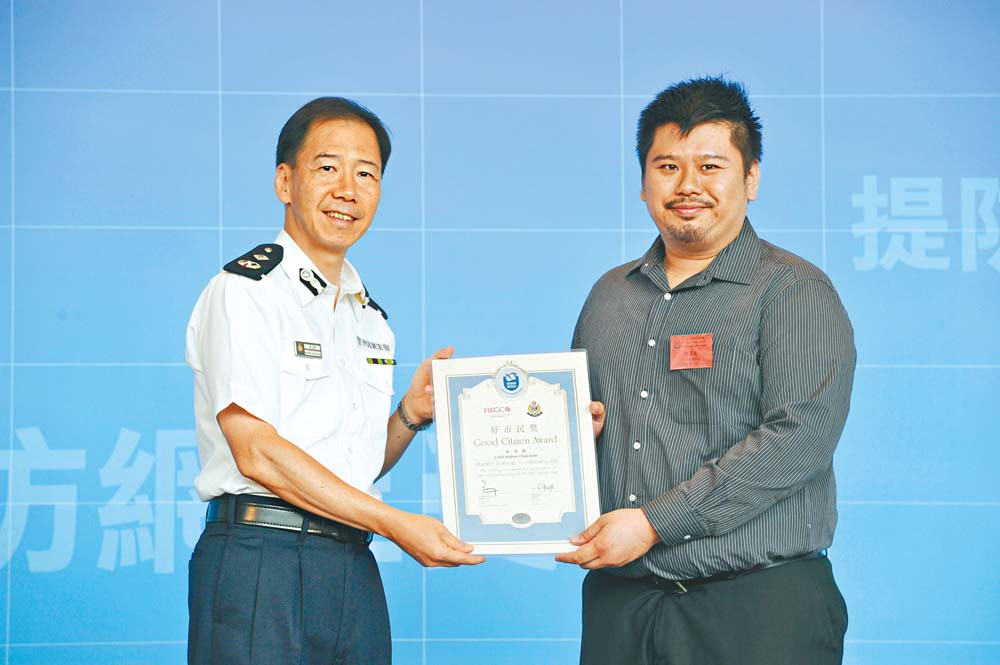 Driving past a bus terminal at Mei Lam Estate, Mr Lam Chak-kuen spotted two young men dressed in a Bus Captain uniform driving off a bus with lights switched off. Mr Lam followed the bus for half an hour before alerting the Police, who later arrested the two suspects in Tai Wai, Shatin