The 18th Guangdong-Hong Kong-Macao Police and Security Forces Sports Exchange took place in Foshan, Guangdong Province, from September 4 to 7 with a view to enhancing friendship and working relations among the three jurisdictions, and building a solid foundation for co-operation in the Greater Bay Area.

Deputy Commissioner (Management) Chiu Wai-yin led a team of 61 Force athletes to take part in the annual event. Ms Chiu was one of the presiding guests at the opening ceremony whilst Commissioner Lo Wai-chung officiated at the closing ceremony with other guests. Chairman of the Police Sports Council Mr Cheuk Hau-yip and Vice-chairman Mr Kwok Ka-chuen attended a number of matches to cheer on the Force athletes, and presented awards to the winners together with senior officers of Guangdong and Macao.

Nail-biting contests were seen in basketball, football, shooting, swimming and tennis. The Hong Kong athletes clinched the first runner-up award in the tennis match, and took the overall second runner-up title of the Tripartite Sports Exchange.

In senior officers' friendly matches, Ms Chiu and Senior Superintendent Ma Wai-hing secured the championship of badminton mixed doubles. In table tennis men's doubles, Assistant Commissioner (Service Quality) Chung Sze-pong and Chief Inspector Wong Wan-chi won the first runner-up. Furthermore, the Hong Kong tennis teams captured the championship and first runner-up position in men's doubles matches, while the Hong Kong swimming team emerged as the first runner-up.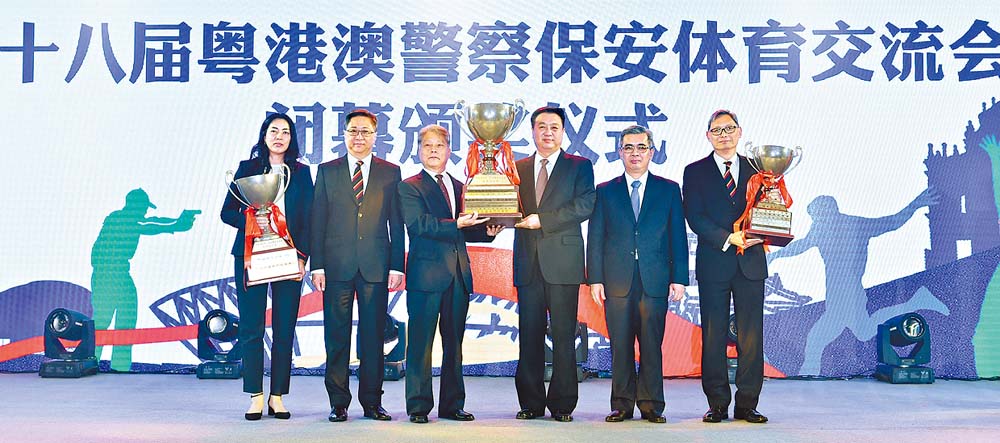 Commissioner Lo Wai-chung (second left) is one of the officiating guests at the closing ceremony, with Mr Cheuk Hau-yip (first right) receiving the overall second runner-up trophy on behalf of the Force

Commissioner Lo Wai-chung (back row, seventh left) and senior officers take a photograph with Force athletes at the closing ceremony cum banquet