Recruitment refined for SDU hopefuls

Special Duties Unit selection has been refined to give applicants a better opportunity to prove their talents for the job.

The new course puts more emphasis on mental attributes and less on physical endurance. This will eliminate benefits some officers may have gained by serving under certain units previously, where physical attributes were emphasised.

SDU Second Officer-in-command, Chief Inspector Dave Lewis, said it was the most important change to the elite unit's selection process, known to be one of the toughest among all Force formations.

"All applicants should be physically fit and willing to serve for two-and-a-half years in the Unit which lays great stress on self-reliance, leadership, self-discipline and initiative," Mr Lewis said.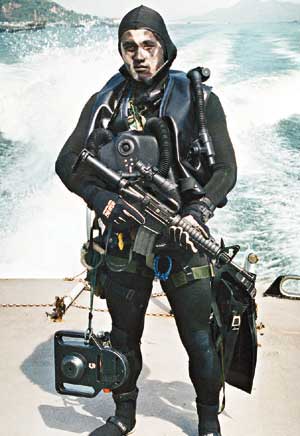 SDU's on the move!
Special Duties Unit hopefuls now have more reason than ever to sign up. SDU selection has been refined, putting more emphasis on mental attributes than physical ones. This will give applicants a better opportunity to prove their talents for the job, one of the Force"s toughest.

"They should be able to confidently swim in surface and sub-surface conditions, have a good record of service, preferably have attended the Police Tactical Unit in their present rank and have good eyesight. Contact lenses are acceptable."

Prior to last year, SDU selection was 10 to 14 days in length with most of the emphasis placed on physical endurance. Last year SDU changed the format and held a basic four-day selection which looked for candidates who had the potential to become officers in the unit.

Those who passed the basic selection were then given a five-week build-up course followed by a week-long advanced selection. This proved very successful and will be used as the selection procedure again this year.

The basic four-day selection will commence on November 1 with the next phase set to start in early January. The training will prepare officers for the advanced selection in February.

"This five-week build-up training will adequately train participants from different formations and put them on an equal basis for the 'final' phase of the selection, the advanced selection week from February 7 to 12 next year, which is the Endurance Week," Mr Lewis said.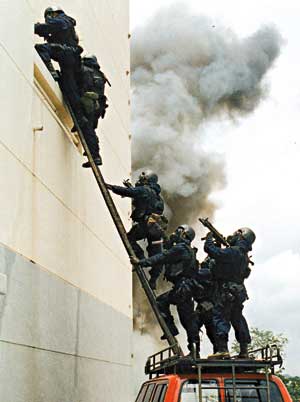 Moving up the job ladder: An example of the tough training awaiting recruits

The new course concentrates on weapons handling and use, elementary close-quarter battle, camouflage and concealment, physical fitness, observation and commentary, first aid, and map reading.

Suitable candidates will then be admitted to a five-month course on advanced counter-terrorism training starting February 14, after which they will become formal SDU members to take on some of the toughest jobs in the Force.

"Through this tough selection process, we're looking for officers with the right qualities and most important of all, the potential to be trained. That's why we haven't set a quota for our intake. It all depends on the number of 'right'guys we get," Mr Lewis said.

In the past year, 44 Inspectorate and Junior officers applied - 14 were selected.

"Applications from officers of all ages and both sexes are welcome, but I'd like to stress no allowance will be given to anybody during the selection process. After all, as SDU members, they have to work as a team, each making their utmost contribution," Mr Lewis added.

* For more information about the selection process, please contact the SDU Training Team on 2669-6276 or 2669-6277.

Those interested should submit their applications by September 10. All applicants are invited to join one of the three pre-selection seminars to be held at the Conference Room of the Police Sports and Recreation Club at 10 am on August 14, 21 and 28.

During the seminars, they will be briefed on the history and charter of SDU as well as the application and selection procedure in a bid to make selection more open and transparent.

A pre-selection day will be held at PTU Headquarters on September 30 to test applicants" physical fitness and suitability to attend the Basic Selection. Applicants must attend the pre-selection day and those who pass will be required to undergo a full medical examination in October.

Four-day Basic Selection will then follow suit from November 1 before build-up training in January.



<< Back to Index >>