Course boosts officers' life-saving skills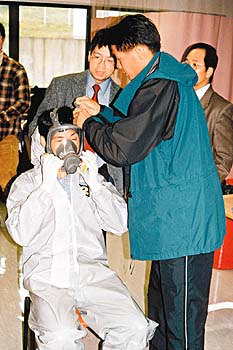 Gearing up: Officers in training to handle biological incidents


Some 36 officers have increased their ability to save lives after completing two advanced first aid courses.

Two groups of 18 Junior Police Officers graduated from the latest Basic Trauma Management, and Police Paramedic courses at North District Hospital on March 9.

The courses were organised by the Training Development Bureau's First Aid Training Division and the Hospital Authority.

The officers, having completed the basics in first aid, were selected from different formations to attend the courses at the hospital.

They were under the tutelage of its Consultant for the Accident and Emergency Department (A&E) Dr Chung Chin-hung and other experienced medical personnel.

Some 134 officers have been trained since the courses started in 1995. Held in December, the latest paramedic course consisted of a week's lectures followed by a three-day attachment to A&E wards across Hong Kong.

Course contents included management of nuclear, biological or chemical contamination and terrorism incidents, airway and breathing management, intravenous access and therapy, trauma and wound management and suturing, non-traumatic medical emergencies and cardiac arrest.

The two-day trauma course held in mid-February covered different types of trauma, their causes and basic treatment. Participants were told that in the critical hour after an accident, chances of victims being saved would be tremendously increased if officers who were often the first at the scene were able to perform first aid and confine injuries.

In recent years the Division has been organising basic training courses for officers at the Police Training School and refresher courses for the Regions. Division head Acting Chief Inspector Stephen Ma Chak-wa said: "According to statistics, the number of incidents involving officers giving first aid and the number of lives saved have been increasing over the last few years.

"This shows our officers are capable of putting what they've learned to good use."

Paramedic course student, Special Duties Unit Sergeant Lo Wing-kay, said: "During my attachment to the Prince of Wales Hospital's A&E Department, I came across a man who fell from a height and sustained multiple bone fractures. I learned a lot from the doctor who explained in detail the proper way to handle similar situations." Course director Dr Chung said studies were very intensive due to vast medical areas covered.

"Knowing the officers were from different formations with varied first aid knowledge, we prepared plenty of material for them before the lectures," he said.

"All finished their assigned readings and they were all fully prepared for the classes which went very smoothly.

"We were deeply impressed with their eagerness to learn and I am glad they all completed the courses and hope more officers can attend them future."

Assistant Commissioner of Police (Training) Yip Kwok-keung and Deputy Director (Operations and Public Affairs) of the Hospital Authority Dr Ko Wing-man presented certificates.

Mr Yip said: "In recent years, one of the Force strategies has been to strive for professionalism and the way to do it is by dedication to our work and continued learning.

"Police officers are often required to deal with matters of life and death so it is necessary for them to be equipped with first aid skills," Mr Yip added. "However, basic knowledge in first aid is not enough. We need training of a more professional standard and the HA has been giving us their full support in recent years."