Top commendations for
suppressing villagers' violence
Some 22 officers who helped quell and investigate violence in the Shek Wu San Tsuen clearance last year were commended by Commissioner Eddie Hui Ki-on and New Territories North Regional Commander Ng Wai-kit on June 20 for their courage and professionalism.
A presentation ceremony at NTN Regional Headquarters was held, highlighting their outstanding work in the Sheung Shui incident.
The November 16 clearance operation by the Housing Department was to make way for an anti-flooding drainage project. However, Department staff met strong resistance from Shek Wu San Tsuen villagers. PTU officers were called in to assist but were confronted by villagers armed with metal bars and a machete outside the village.
Despite a barrage of hurled stones, bottles, Molotov cocktails and other projectiles, the officers exercised great restraint, using minimum force to clear the village and restore order. Some 14 people were arrested, nine were charged and six convicted of various offences.
Sergeant Chan Kin-wing of the New Territories South Emergency Unit received a Commissioner's Commendation for his leadership, devotion to duty and courage of an exceptionally high order whilst effectively preventing a villager from igniting a liquefied petroleum gas cylinder before a platoon of officers during the incident.
SGTs Chung Kin-hung, Tsang Kam-tim and Li Yiu-man, and Police Constables Lau Kim-yan, Chan Chun-yu, Wong Kwok-wai, Wan Kwok-leung, Wong Kin-fai, Chu Wai-hang, Leung Wing-hung, Chan Tat-wing and Liu Wai-hong, all from PTU's Hotel Company, received commendation letters from Mr Ng for their bravery.
He also presented commendation letters to Detective Chief Inspector Law Wai-shing, Detective Senior Police Constables Lo Wing-cheung and Nam Wan-wah, and Detective Police Constable Yu Lap-chi. These along with complimentary letters to Detective Senior Inspectors Wong Chi-keung and Ko Hoi-nam, Detective Sergeant Au Chi-wo and DSPC Yeung Wan and DPC Lau Lin-fat from Tai Po District for their tenacity, professionalism and investigation skills of a very high order.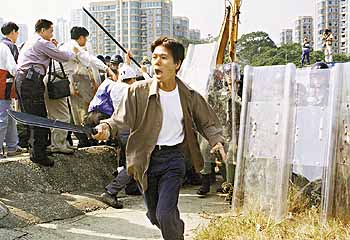 Hotel Coy officers clear violent Shek Wu villagers in November. Pic: Apple Daily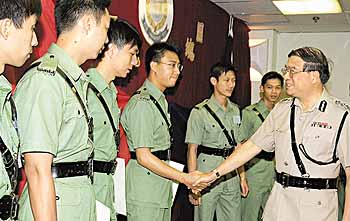 Shek Wu sentries pick up top commendations
Commissioner Eddie Hui Ki-on praised 22 officers on June 20 for helping quell and investigate violence at last November's Shek Wu San Tsuen clearance operation in Sheung Shui.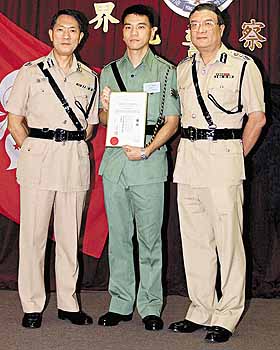 Top job: CP Eddie Hui and RC NTN Ng Wai-kit praise SGT Chan Kin-wing
<< Back to Index >>