PR pundit Jean lands Canadian post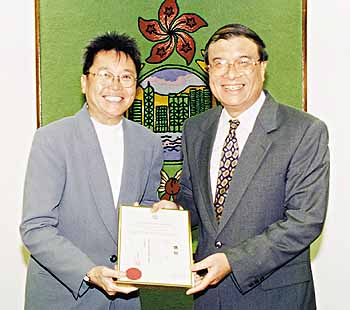 Jean's dream: CP Eddie Hui presents his commendation to Jean Chan


The Force's top publicity officer Jean Chan Siu-mui received a Commissioner's Commendation June 23, her last day as Chief Information and Publicity Officer at the Police Public Relations Branch.

Commissioner Eddie Hui Ki-on presented the accolade, hailing her professionalism, leadership, dedication and devotion to duty of an exceptionally high order since taking up the post in July 1995. It was her second stint in PPRB, the first being a stay as Principal Information Officer Publicity and Publications from 1987 to 1991.

She's leaving to head the Information and Public Relations Unit of the Hong Kong Economic and Trade Office in Toronto, taking up the post on July 3.

Since her return to PPRB, Jean has ensured the efficient operation of the Force's information services, advised senior officers on matters in the press, monitored and analysed public opinion in the media, and overseen Force publications such as OffBeat and the Police Review, which have been colourfully revamped and modernised under her guidance.

Bringing the Police more than 35 years experience in newspapers and PR, and her 20 years in the Information Services Department, Jean's main duty was supervising the Force's frontline contact with the media through PPRB's hectic 24-hour newsroom, press conferences and officers' location briefings.

"I feel we have developed closer ties with the media in recent years and it has been great being in frequent touch with all my old Force contacts and picking up new Police and media friends along the way," Jean said.

"With my deepened understanding of the entire organisation, I'm sure the Force will continue to be seen highly in the public eye."