PTU's elusive curry causes a flurry at the POC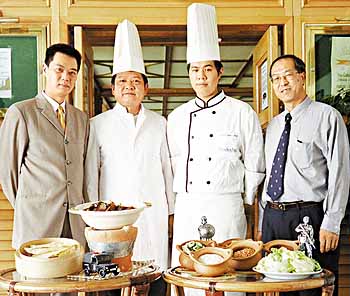 The curry-cooking crew: Food and Beverage Manager Tony Tse, 'Buk Koo', Chef Ah-Wah and SP Catering David Chung say you should never hurry curry, come to the Police Officers' Club instead!
"Disperse peacefully . . . to the Verandah Bar!"
There's a steamy new aroma to the Verandah Bar on Saturday afternoons with the arrival of the classic Police Tactical Unit Curry.
For those who have never been privileged to pound the square at Volunteer Slopes, the PTU Curry is a unique culinary experience, the secrets of which are known only to a few select chefs. Luckily one of those, Sergeant "Buk Koo" volunteered to spend a day at the Police Officers' Club, passing on the time-honoured recipe to its head Chef 'Ah-Wah'.
"The secret to a good PTU Curry is a lot of patience, a dash of experience, and a special combination of spices," says Buk Koo, who spent 20 years at PTU and is now posted as a Regional SGT in the Force Catering Division.
"And it's healthy too - you can't beat a good sweat!"



<< Back to Index >>