Marine safety day to cut fatalities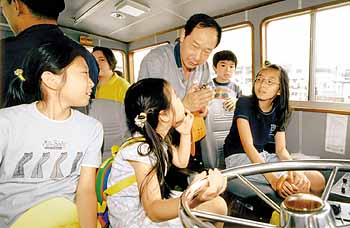 Sea cadets: MP DC Kong Shing-shun explains the workings of a launch's wheelhouse to a young crew


Of the 1,014 maritime accidents last year, 31 were fatal. This was the message passed to 200 mariners by Marine Harbour Divisional Commander Eddie Leung at the Maritime Safety Campaign fun day on June 17 at the Government Dockyard, Stonecutters Island.

Marine Region, together with the Marine, Fire Services, Customs and Excise, and Immigration Departments, the Seamen Training Centre, the Occupational Safety and Health Council and 12 private companies, organised the seminar to promote maritime workers' safety awareness and cut the number of incidents.

With its "Let's Ensure Safety at Sea" slogan, the day saw seminars on improving the safety measures and equipment aboard vessels to prevent accidents.

It also included a display of government vessels, demonstrations of first aid and life saving, and games and quizzes. Eight teams from ferry, cargo terminal, tugboat and shipping companies, and yacht clubs, competed.

Hong Kong Yacht Club won the overall championship trophy with the Star and New World First Ferry companies winning the first and second runners'-up trophies. Officiating guest, Marine Regional Commander Spencer Foo Tsun-kong presented trophies and souvenirs to the winning teams and participating organisations. Marine Port District Commander Kong Shing-shun also attended.