CPB splash for charity cash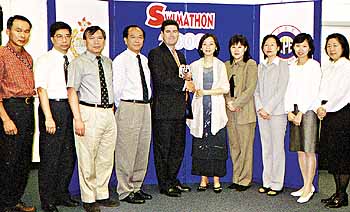 SP Simon Roberts makes the pledge to ACA's Priscilla Lui
Crime Prevention Bureau officers are set to grab their trunks for the CPB Swimathon 2000, slated for September 30 in aid of Against Child Abuse.
CPB officers hope to raise over $100,000 for the worthy cause, swimming continuously for 12 hours.
Children are the future of our society, yet despite our affluence, some kids are subject to various degrees of abuse and need assistance and support for their healthy growth.
ACA was the first non-government and non-profit-making agency to be established here in the 1970s, to assist children who have been abused, to promote child-abuse prevention and educate the public on the issue.
Please assist this excellent cause. Contact Peggy Yip on 2301-1605 to make a donation and support the officersÕ efforts! Your generosity will be much appreciated.



<< Back to Index >>