The newspaper of the Hong Kong Police Force
ISSUE 684 August 2 to August 15, 2000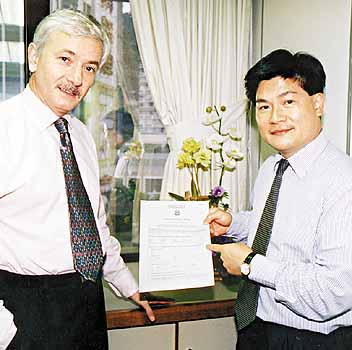 Contents Highlights:

News
SP appraisal form to debut
Closer ties forged with the Department of Justice
New name badges boost image and public service
More upgrades for PPRB's webpage
NTS opens new research room
Eastern service quality awards
Bermudian Rhapsody in PSG
Thief cornered by vigilant traffic ladies
People helping police Yau Tsim
Boost time for 999
Beijing drug conference
Summer fight crime slam
Next stop, Sha Tin
It's all safety at sea
JPC kids head Down Under
Tai Po safe-cycling show!

Features
Pig Pen, with Steve Chandler
Looking back - liberation and rebirth

In Brief
Anti-graft graduates
CP's top 10
NTS commendations

Photo Features
Police programme promotes teens
PDU trainers aiding pups in need

Sports
Division Nine falls to Police squash power
Youth basketball blast gets set
Ready for a triathlon treat?
Gala head for the pool!

Editor:
Linda Cheng: 2866-6171

Reporters:
Winnie Ngan: 2866-6172
Brendan Delfino: 2866-6173

Photography:
Benny Ho: 2866-6174
Yiu Chi-fai: 2866-6174

Fax: 2866-4161

Address:
OffBeat, PPRB, 4/F, Harcourt House, 39 Gloucester Road, Wan Chai.

Internet: http://www.info.gov.hk/police

Email: offbeat@police.gcn.gov.hk

Deadline for next edition: August 8