HK Stadium disaster drill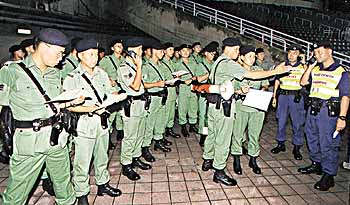 Damage control: Quick response to the Stadium 'bomb'


October 19 was a rowdy night for Wan Chai District and the Police Tactical Unit with 25,000 fans flocking to the Hong Kong Stadium for a contentious football match. A bomb threat is made, but too late, a huge explosion rips through the stands.

This was the scenario for the multi-agency major disaster management exercise that, by the end of the evening, involved all of PTU Alpha Company, a Platoon from Zulu Company, Happy Valley Division and the Explosive Ordnance Disposal Bureau. These, along with Fire Services, the St John Ambulance Brigade, the Leisure and Cultural Services Department and stadium management.

The Alpha Company Commander was the senior officer at the scene, assuming command and implementing initial disaster management procedures. Casualties were transferred to hospital or treated at the scene, EOD officers examined the blast area and PTU cordoned the stadium and helped set up the all-important media area. All this before information came that a second explosive was in the stands, requiring the whole arena to be swept by Alpha Company. Once located, EOD rendered it safe.

The exercise was to re-examine and test the combined responses of Police and other agencies to a major disaster to better appreciate the difficulties, and train to overcome them. PTU were chosen to evaluate the exercise to better prepare themselves, and future Companies, in the rapid command and control response required to contain such a situation.

Acting PTU Commandant Kevin Woods said: "Many valuable lessons were learned from this exercise and it raised the level of awareness as to the need for continual training in Disaster Management. Hong Kong is fortunate such serious incidents are rare. Our efforts to become a major sporting and cultural centre in the region means more effort needs to be paid to this training to ensure our readiness to respond."