SCDS pay PTU visit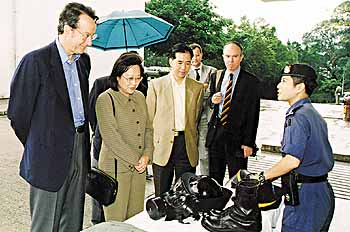 SCDS members watch a demonstration of equipment at PTU Headquarters
The Standing Committee on Disciplined Services Salaries and Conditions of Service visited Police Tactical Unit Headquarters on October 21.
SCDS Chairman Miriam Lau Kin-yee, SCDS Police Sub-Committee Chairman and member Martin Barrow and Almon Poon Chin-hung respectively, along with SCDS Secretariat staff, met Acting PTU Commandant Kevin Woods and Acting Deputy Alfie Chau Kwok-leung, along with staff and trainees.
The delegation was briefed on how information technology had enhanced internal communication at PTU. This was followed by a demonstration in tactics for crowd management and approaches to vehicles containing armed suspects. They also examined the range of equipment carried by a PTU Company.
SCDS members later hosted a lunch at the PTU Officers' Mess and had the opportunity to discuss conditions of service and other issues of concern to a cross section of officers in a relaxed atmosphere.