Badminton Force double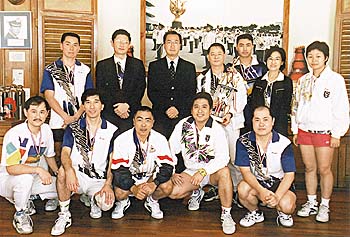 Tsang Yam-pui with NTS, Regional champs for another year
New Territories South won the Police 2000 Inter-Regional Badminton Competition (Tsang Yam-pui Trophy) for the second year running on December 2.
The riveting event at the Police Officers' Club saw NTS retain their title, outdoing a top effort from Marine Region in a nail-biting final. New Territories North and Kowloon West shared the third prize. Deputy Commissioner (Management) Tsang Yam-pui presented the trophies after the competition.
Meanwhile, the Police Badminton Team maintained their top spot by claiming their seventh victory in the 8th Disciplined Services Badminton Competition at the Ma On Shan Ambulance Command Training School on November 22.
The 12-man squad led by Chief Inspector Hui Chun-tak, beat teams from the Fire Services, Customs and Excise, Immigration and Correctional Services Departments from October 19 to make it to the finals where they outdid C&E and FSD to keep the crown for another year.