Commissioned to serve


Eddie Hui had no idea as a youth that he would join the Police, let alone become one of its longest serving Commissioners.

He joined in 1963, aged 19, when the establishment was a mere 8,753 Regulars, 1,586 civilians and 2,500 Auxiliaries.

"When I was young I was not exactly sure which career direction to take, and to be a police officer at that time was one of the best options available, so I took it!"

With nine years in the Inspectorate ranks, 12 in Superintendent ranks and the rest in Commissioner ranks, Mr Hui's commitment and pride in the job saw him trek to the top.

His first post was in Wan Chai, known as Eastern back then, for two-and-a-half years before a 12-year posting to Special Branch. He was promoted to SP Emergency Unit Kowloon and then became Divisional SP in Sham Shui Po. However, in early 1980 he was scheduled to transfer back to Special Branch.

"This was the real milestone in my career. If I had gone back I would have ended up retiring with the rest of them. But I instead went to Narcotics Bureau until 1984. Then I was promoted to Assistant Commissioner and the rest is history!"

Of the numerous incidents and cases of his career, the 1989 riots in Kowloon in the aftermath of June 4, came to mind.

"I was Regional Commander Kowloon at that time and was at home when I got the call from the Kowloon RCCC about the disturbance. So we made deployments and called for reinforcements and we managed to get the place back to normal overnight," he said.

"And in NB I recall a big heroin seizure, about 100 kilograms, one time in the Shau Kei Wan typhoon shelter. I was CSP NB then and the raid came through a combination of information we had received and a long period of surveillance and investigation. It was the biggest seizure of its time."

Mr Hui received the Commissioner's Commendation for his work in Special Branch. He also received a host of awards such as the Colonial and the Queen's Police Medal during his career.

He said he favoured no particular award, saying"all commendations should be treasured".

And the best post during his 38 years?

"Why, CP, of course! Honestly, there has been no better post than this."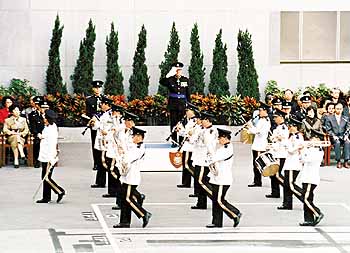 Silver salute: The Police Silver Band marches by at Police Headquarters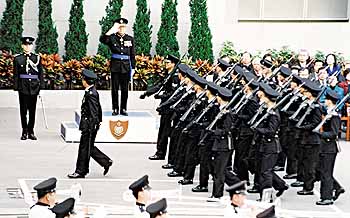 Another gallant troop march by at Police Headquarters