New mobile command vehicle unveiled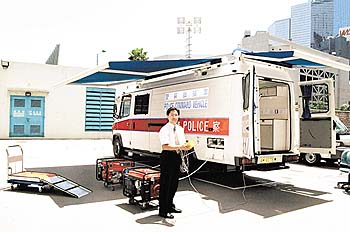 Transport Division SIP Ben Fan uses the remote control to manoeuvre the new van's rooftop floodlights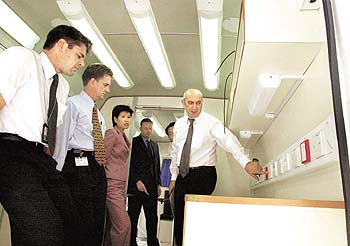 FMTO Stuart Jones points out the many features of the large new 'office' compartment
The first of a new generation of Regional Mobile Command Units was shown to Emergency Unit Superintendents on July 10.
The vehicles are set to replace existing RMCUs, which were converted from short wheel base Mercedes-Benz vans in 1995 and 1996. The new vehicles are larger and outfitted with a host of new features, such as portable generators, flood and work lights, a bigger briefing area and new communications equipment.
Transport Division Senior Inspector Ben Fan Man-fai said: "The vehicle has been designed so it can be turned out quickly by EUs to an extended incident where normal patrol teams require additional communications equipment and a focal point for police action. The briefing area will be useful for formation commanders who have different units at one scene."
SIP Fan said floodlights enabled the vehicles to be used at night - a useful focal point for pre-planned or extended operations such as crowd control, fires and area searches.
"There is also scope for adding additional communications equipment later, and units which use their own laptop computers can plug them into a reliable electricity supply," he said.
"When there is no immediate mains electricity supply, the old vans use batteries which need re-charging after just six hours. A towed generator can be attached but this is cumbersome.
"The new vehicles will have all the same features but will carry two portable generators, allowing them to operate indefinitely with their own independent power from the moment they arrive at a scene."
The vehicles are the same size as existing Trooper vans and can be driven by most Transport Division officers, having the same 4,250cc turbo diesel engine that fully meets the latest Euro-III environmental requirements on exhaust emissions.
"The larger conference and communications areas make running the mobile unit easier for commanders. There are extendible awnings at the side and rear. The powerful extendible floodlights on the roof can rotate 360 degrees, while work lights illuminate the outside of the vehicle," SIP Fan said.
"A range of Regional radios are supplied, along with a fax machine, 10 telephone sockets and additional 13-amp electricity outlets for extra equipment."
SIP Fan co-ordinated the vans' development between the Government Land Transport Agency, Electrical and Mechanical Services Department, Communications Branch, Hong Kong Island Emergency Unit and the contractors. The first of the new vehicles will be deployed to Hong Kong Island Emergency Unit in the coming months.





<< Back to Index >>