Media inspection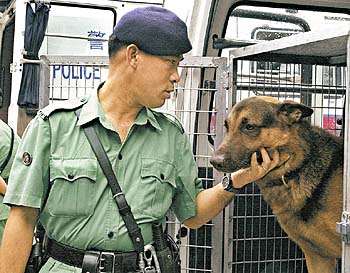 Come on, we're needed again
Members of a media contingent were privy to a rare insight into the functions of the Kowloon West Emergency Unit during a visit to Mong Kok Police Station on August 28.
The priorities of the EU KW are to deal with natural disasters or emergencies, such as robberies, burglaries and explosives detection, with assistance and support provided by 260 officers, 12 patrol vehicles and police dogs. The EU also carries out anti-crime patrols, responds to 999 emergency calls, and maintains internal security in the KW Region," said EU KW Superintendent Leung Hing-ping.
Each EU vehicle carries more than 60 pieces of equipment, including a Remington shotgun, an MP5 and chemical-proof clothing.
"Training for EU officers is both tough and demanding," stated SP Leung. "All recruits have to pass an induction session before joining the unit. After joining, officers have the opportunity of attending a variety of courses including tactical training, first aid, long-barreled weapons and internal security training."
"EU KW and other regional EUs are here to prevent and fight crime and to deal with any natural disasters to safeguard both life and property."



<< Back to Index >>