Force clinches 10 Civil Service Outstanding Service awards
The Force has clinched 10 awards, comprising four gold, two silver and three merit awards, as well as one special citation of the Force clinches 10 Civil Service Outstanding Service awards. The award presentation was held at Hong Kong Convention and Exhibition Centre on September 6, with the Chief Executive, Mr C Y Leung, the Permanent Secretary for the Civil Service, Mr Paul Tang, and members of the Executive Council and Legislative Council officiating.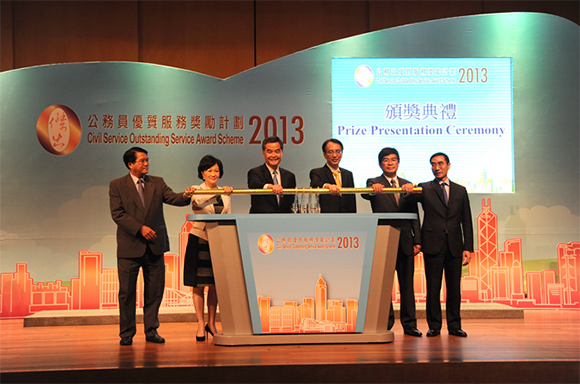 The Chief Executive, Hon C Y Leung, GBM, GBS, JP and other distinguished guests officiated at the Prize Presentation Ceremony
Deputy Commissioner (Management) Ma Wai-luk, Director of Management Services Lau Yip-shing and Assistant Commissioner (Service Quality) Peter Morgan, leading a party of Force representatives from various Formations, received two Departmental Awards - Gold Award of "Service Enhancement Award" and Silver Award of "Best Public Image Award". Also present to show their support for the Force awardees were Director of Operations Wong Chi-hung and Assistant Commissioner (Operations) Cheung Tak-keung.
The Civil Service Bureau has been operating the Civil Service Outstanding Service Award Scheme since 1999 to recognise the efforts of departments and teams, which provide excellent services to promote a citizen-focused culture in the civil service. There are three levels of awards, namely inter-departmental, departmental and team, with different categories under each level. Assessment criteria are mainly based on "Service Strategy and Objective", "Service Design", "Service Implementation" and "Result".
Departmental Level Award
The Force's winning teams stood out from other competitors in the initial and final interviews, written submissions as well as the total number of awards received by a single government department. At the departmental level, it is the second consecutive occasion the Force has won the "Service Enhancement Award" championship, with the commitment and continuous efforts to provide quality services for both internal and external customers, as evidenced by the enhanced reporting services. The winning team comprised officers from Service Quality Wing, Police Public Relations Branch, Planning and Development Branch, Central District, Wong Tai Sin District and Mong Kok District. 
The Force has also won the Silver Award of the departmental "Best Public Image Award", for which a sample of randomly selected members of the public as well as all members of the Legislative Council and District Councils were invited to vote in a survey to select three departments with the best image among all bureaux and departments which participated in the Award Scheme.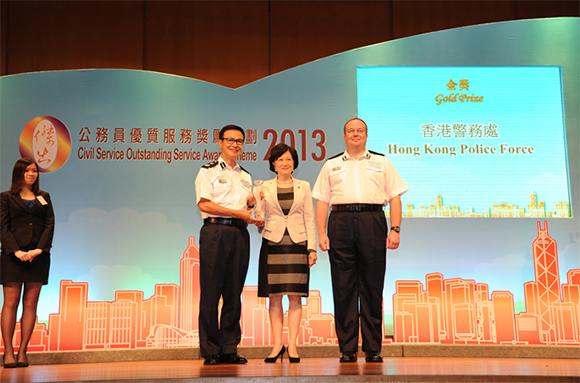 The team comprising SQW, PPRB, P&D, MKDIST, WTSDIST and CDIST wins Service Enhancement Award's Gold Award
Team Level Award
Police Dog Unit is the second Gold Award winner, capturing the "Regulatory/Enforcement Service Award" and the "Special Citation (Innovation) Award" with outstanding teamwork and more effective ways to fight crime, especially the creative "Dual-purpose Dog" scheme that enables police dogs to perform both patrol and drug detection duties.
Kwai Tsing District's "Project Dawn" has won the third Gold Award - the "Specialised Service Award" - by using multi-agency co-operation to handle cases involving people with mental health issues.
The fourth Gold Award went to "Disaster Victim Identification Unit" in the form of "Crisis/Incident Support Service Award" for having reached a world-class professional standard in recent disaster relief operations.
The Force also received one Silver and three Merit awards in other categories at team level.  The Silver Award went to Yau Tsim District for its "Operation Retriever" in the category of "Specialised Service Award".  In the same category, Kowloon City District also won a Merit Award with its "Kowloon City Neighbourhood Veteran" project. Another two Merit Awards, namely "Internal Service Award" and "Crisis / Incident Support Service Award", went to Carelinks and the Emergency Unit of New Territories South respectively.
Congratulating the Force awardees on their contributions and achievements in service excellence, Mr Ma encouraged Force members "to strive for service quality and continuous improvement in all we do, and to serve the public with pride and care."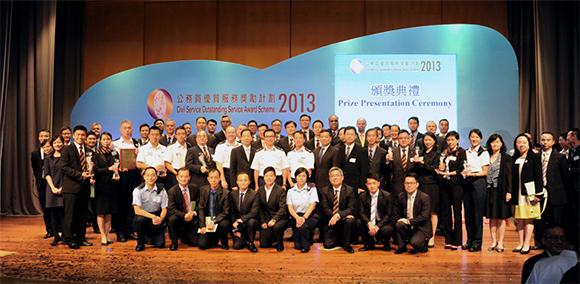 Deputy Commissioner (Management) Ma Wai-luk, Director of Management Services Lau Yip-shing, Director of Operations Wong Chi-hung, Assistant Commissioner (Service Quality) Peter Morgan and Assistant Commissioner (Operations) Cheung Tak-keung taking picture with representatives from various winning Formations