PPP rated as Top Government Website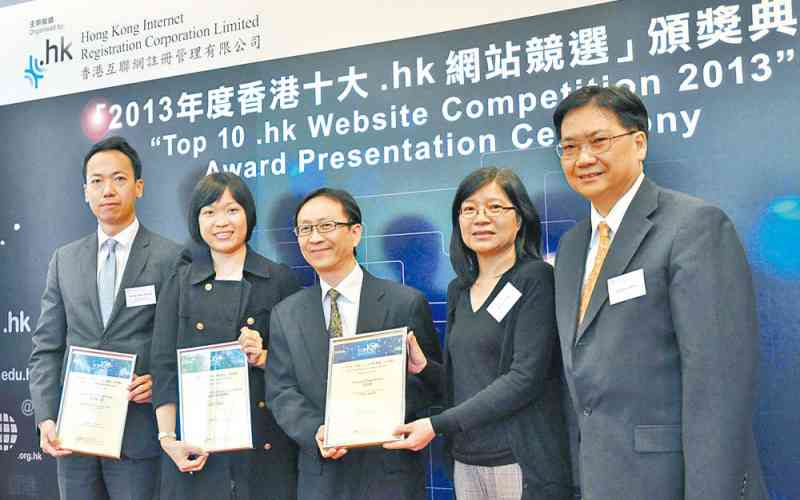 Police Public Relations Branch Senior Superintendent Kong Man-keung (first left) receives the ''Special Mention'' Certificate on behalf of the Force
The Police Public Page (PPP), one of the key platforms the Force is using for communicating with the public, was selected as one of the top five Government websites in the 2013 Top10 .hk Website Competition.
The competition was organised by the Hong Kong Internet Registration Corporation Limited (HKIRC), a non-profit-making and non-statutory corporation designated by the HKSAR Government to administer registration of Internet domain names under .hk and .country-code top-level domains. The competition aimed at providing a platform for Hong Kong enterprises, organisations and local parties to share their best practices for .hk website development.
The Government Departments Category was introduced in 2012. All the 82 Government Websites listed under the HKSAR Government Organisation Chart were automatically enrolled for the competition under the Government Departments Category. Amongst the 82 contenders in the group, the top two were presented with a Gold Award while the following three with " Special Mention". The two Gold Awards went to the websites of Radio Television Hong Kong and Hong Kong Observatory. The PPP was awarded "Special Mention", while the other two "Special Mentions" winners were the websites of Housing Authority and Office of the Communications Authority. The PPP gained the honour for the first time after introduction of a facelift version.
At the presentation ceremony held on April 17, Dr Robin Bradbeer, Chair of the judging panel for the Government Departments Category, said the winning websites were selected for their comprehensiveness of information, new look and feel, unique professional style and use of website engagement and interaction through social media, such as Facebook and Youtube. PPP's characteristics and features in community engagement particularly impressed the judges.
The PPP was set up in 1996 and had undergone different scales of revamping to provide a better browsing experience for users. It provides timely information to enhance public understanding of Police work and offers a forum for the public to provide information for the fight against crime.