KW - Best Security Services Awards 2014
Kowloon West Best Security Services Awards Motivating security services and property management industries to combat crime with the Police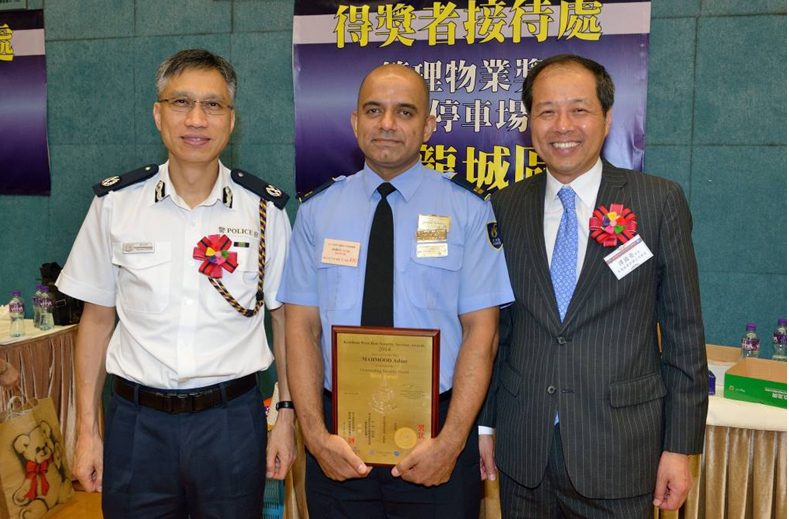 On May 28th, the 'Kowloon West Best Security Services Awards Presentation Ceremony 2014' jointly organized by Kowloon West Regional Crime Prevention Office, the Hong Kong Association of Property Management Companies (HKAPMC) and the Security and Guarding Services Industry Authority (SGSIA) was held at Police Sports and Recreation Club. Officiating guests included Assistant Commissioner of Police CHUNG Siu-yeung, Kowloon West Regional Commander, Mr. CHAM Ka-hung Daniel, BBS MH JP Chairman of the SGSIA, and Mr. TAM Kwok-wing Ivan President of the HKAPMC officiated at the ceremony.
To promote security and guarding services in the Region, the 'Kowloon West Best Security Services Awards' is an annual event since 2001. It not only becomes an annual grand event co-organized by the Police and property management industry in the Region. It is also a platform for the Police to commend devoted security personnel with outstanding performance.
Alone the changing society, property management plays an important role in the services industry nowadays. Under the 'Security and Guarding Services Ordinance', property management companies and security personnel are dedicated to safeguarding life and property, and assisting the Police in preventing crimes, so as to ensure a safe environment for the public.
The Gold Award winner of Best Security Guard this year was a Pakistani. Who assisted the Police in detecting six cases of 'Burglary' and 'Theft' with six persons arrested totally. In fact, he was one of the 'Silver Award winners of Best Security Guard' in 2012 and one of the 'Top 10 award winners of Best Security Guard' in 2013, which is evident to his devotion to his job and professionalism.
Kowloon West Region will continue promoting 'Community Policing' by collaborating with the professional, hardworking and devoted security personnel and other stakeholders in fighting crimes to ensure the community a safe environment and to sustain Hong Kong one of the safest and most stable cities in the world.