Kowloon West Region - Best Security Services Awards
KW presents Best Security Services Awards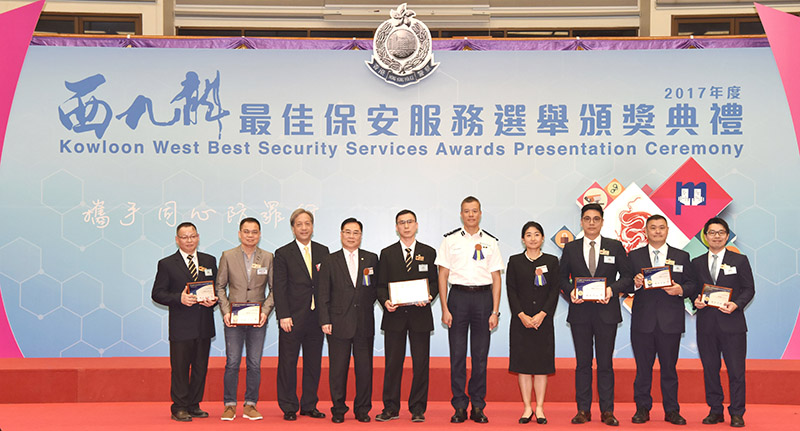 The Kowloon West Best Security Services Awards Presentation Ceremony 2017 was held on May 10 to commend security personnel for helping the Police to fight crime. The event was jointly organised by Kowloon West (KW) Regional Crime Prevention Office, the Security and Guarding Services Industry Authority (SGSIA), the Hong Kong Association of Property Management Companies (HKAPMC) and the Hong Kong Institute of Housing (HKIH) at the Police Sports and Recreation Club.
Officiating at the ceremony were KW Deputy Regional Commander Kwok Pak-chung, Chairman of the SGSIA Ms Jane Curzon Lo and President of the HKAPMC cum HKIH Dr Chan Chi-kau. Mr Kwok encouraged the practitioners to continue their partnership with the Police to ensure Hong Kong remains one of the safest and most stable societies in the world.
The winner of the Gold Award of the Best Security Guard was commended for his efforts in assisting the Force to arrest a robber in a shopping mall. The silver and bronze awardees had also assisted the Police in arresting offenders.
Through the awards scheme, KW Region has strived to motivate the security services sector to raise their service standard and to fight crime.