About Us
Introduction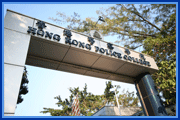 The Aberdeen Campus of the Police College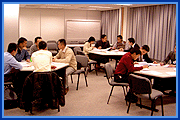 Professional development training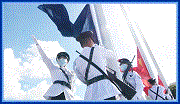 Passing-out Parade
The Police College was established in January 2006, replacing what was previously known as Training Wing, to develop police training in a strategic manner and the College as a centre of excellence in police training.
An Assistant Commissioner of Police, with the title of Director, Hong Kong Police College (D HKPC), commands the Police College assisted by two Deputy Directors in the rank of Chief Superintendent of Police. D HKPC is responsible to the Director Personnel and Training, a Senior Assistant Commissioner of Police, for the implementation of Force training and development policy.
To enhance the efficiency of the College as well as to provide a foundation that can be expanded to cope with the present and future levels of training demand, the College has been reformed and restructured on a three-school basis supplemented by two divisions in April 2015. Two Schools, namely School of Foundation Training and School of Professional Development are commanded by School Heads in the rank of Senior Superintendent of Police and come under one Deputy Director. The other School, namely School of Specialised Learning and two Divisions at the College Headquarters come under the other Deputy Director. School of Specialised Learning is commanded by a School Head in the rank of a Senior Superintendent of Police, who in turn supervises Research Centre (RC), Detective Training Centre (DTC), Examinations and Assessment Centre (EAC) and Police Driving and Traffic Training Centre (PD&TTC), each headed by a Superintendent of Police. As regards the two Divisions, Administration and Support Division (A&SD) is headed by a Superintendent of Police and Human Resources and Finance Division (HR&FD) by a Senior Executive Officer. Both Divisions are to provide different management support services to the College.
The College believes that officers should take responsibility for their own learning and has therefore adopted the following Learning Trio as its overall approach to police education, which requires:
formal training delivered by the College;
workplace learning on the job; and
self-study by officers in their own time.
In delivering formal training for different ranks to meet their varying training and development needs, the College has adopted a three-tiered training hierarchy consisting of vocational development, professional development and executive development.
The College organises and delivers various training programmes ranging from foundation training for recruits to detective training, use of force training, driving training and leadership training. It also designs Force-wide training projects in subjects such as Occupational Safety and Health (OSH) and Psychological Competency Training (PCT).
To achieve its ambition of becoming a leading centre of excellence in police training and development, the College has implemented the Quality Assurance Mechanism (QAM), which mandates that College training divisions comply with a number of quality assurance requirements. In addition, three College divisions have obtained ISO 9001:2008 certification to quality-assure their training services. A number of training programmes have also been accredited by local or overseas tertiary institutes.
The College continues to strengthen its professional relationship with its external training partners, including local tertiary and overseas police training institutions. Whilst a number of College training programmes are already academically accredited with universities or vocationally accredited with the Hong Kong Council for Accreditation of Academic and Vocational Qualifications (HKCAAVQ) under the Hong Kong Qualifications Framework (HKQF), the College is committed to securing accreditation for more programmes.
To promote knowledge sharing and lifelong learning, the College has implemented Knowledge Management (KM) initiatives according to the Force KM strategy and has organized four Force-wide police research competitions.
---
Ambition and Purpose
Ambition
To become a leading centre of excellence in police training and development in the international arena
Purpose
We train and develop officers into police professionals with the highest ability and integrity to serve the community

Philosophy
We keep improving beyond our areas of excellence
We encourage openness and innovative ideas
We value local and worldwide collaboration
We emphasise professional leadership at all levels
We champion experience and knowledge sharing
Strategy
Train and develop officers to maintain and enhance the organisational competence of the Force
Build strategic partnership both within and outside the Force to strengthen its organisational capacity
Leverage technology to expand training opportunities and optimise learning outcome
Embed knowledge management as part of the Force culture
Develop organisational learning capability of the Force to embrace the future
---
Strategic Priorities
Supporting Force Strategic Directions
Fulfilling the Force's vision of ensuring the safety and stability of Hong Kong
Enhancing Performance
Officers' performance enhanced through quality training and development
Raising Quality of Training
Quality of training assured through improved mechanism, facilities and quality training staff
Leveraging Technology
Learning outcome optimised and training opportunity expanded
---
Organisation Structure