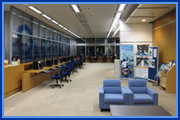 Force Library
The Research Centre is dedicated to enhancing and consolidating the Force's research capabilities to support the delivery of high quality services to the community. It aims at systematising research endeavours and optimising information available to management in making Force strategic decisions.
With the aim of promoting knowledge sharing among Force members and encouraging the application of new knowledge in policing, the Research Centre constantly upgrades the Force Knowledge Management System as a continuous process.
The Research Centre is also responsible for developing and enhancing strategic partnerships and collaboration with professional research institutes to improve the quality and range of research services available to the Force.
Force Library plays an important role in research studies. Under the command of the Research Centre, it provides a wide range of support services to facilitate research activities undertaken with the Force. Force Library will be developed into a research-oriented knowledge centre and a library specialised in applied policing.