Training
Introduction | Venue
---
Introduction
Inspector
As a leader, Police Inspector should be with the strength of character to take command of a situation and the judgment to look beyond the obvious. Appointed Probationary Inspectors will undergo 36 weeks of foundation training which covers leadership, command and control, human resources management, laws, legal proceedings and police procedures, sociology in policing, psychology in policing, footdrill, physical training, tactics and use of force etc. Trainees must pass the Standard One Professional Examination before passing out from the Hong Kong Police College as a qualified police inspector.
Police Constable
Constables are invariably first at the scene of major crimes, emergencies, heated dispute and many other unexpected situations. A professional and structured training is clearly essential. Once appointed as a constable, trainees will need to undergo 27 weeks of foundation training which includes laws, police procedures, sociology in policing, psychology in policing, footdrill, physical training, tactics, weapons handling and practical exercises etc. All recruited police constables must pass the Final Examination before passing out from the Hong Kong Police College.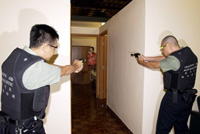 Tactics and Weapon Training
Police officers may face unexpected conflicts when carrying out police duties. Trainees are required to apply suitable tactics and techniques they have learnt to their police duties in various scenario-based exercises. Trainees will also receive a series of professional firearm and weapon training in order to ensure that they could discharge their duties with suitable level of force with justified and legitimate grounds.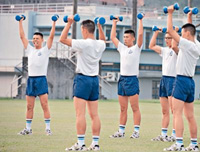 Physical Fitness Training
Trainees would go through a series of physical fitness trainings, including chin-up, push-up, sit-up, squat thrust, vertical jump, 10 x 10m shuttle run, 2.4 km running and Professional Physical Ability Training Test, to ensure that their physical body condition could handle police daily duties and urgent circumstances.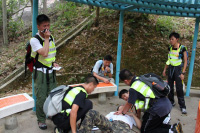 Practical Exercise
Daily police duties involve various types of incident handling and enforcement action. Trainees will receive scenario-based trainings to ensure police officers could effectively discharge their duties and provide excellent services to the public.
---
Probationary Inspector and Recruit Police Constable Professional Diploma Programmes
Upon successful completion of the 36-week Probationary Inspector (PI) and 27-week Recruit Police Constable's (RPC) foundation training programmes, Hong Kong Police College may award PI and RPC trainees with vocational qualifications that are recognized under the Hong Kong Qualifications Framework (QF), namely "Professional Diploma in Leadership and Management in Policing" for PI and "Professional Diploma in Policing" for RPC.
These PI and RPC Professional Diploma Programmes were quality assured by the Hong Kong Council for Accreditation of Academic and Vocational Qualifications (HKCAAVQ) through a rigorous accreditation process and recognized under the QF as meeting the accreditation standards at QF Level 5 (at the same level of a Bachelor's degree of the academic sector) and Level 4 (at the same level of an Associate Degree or a Higher Diploma) respectively.
For further details on the QF, please refer to the following websites:-
---
Venues
Hong Kong Police College is equipped with various professional facilities and venues to provide training of excellent quality.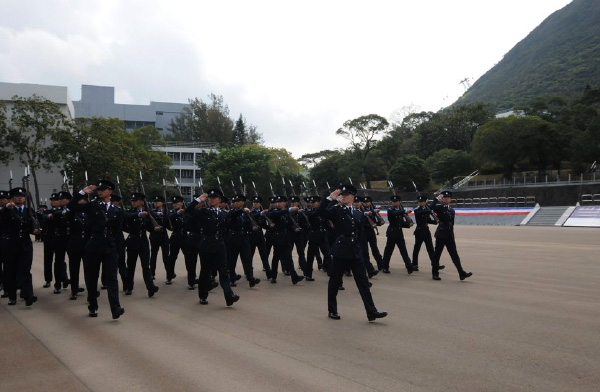 Parade Ground
Through repeated foot drill trainings, officers would build up sense of consciousness, self-discipline and team spirit. The white marks (also known as the tear marks) on the parade ground demonstrate the devotion and determination of the trainees.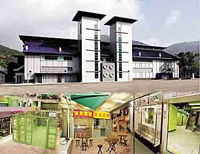 Tactics Training Complex
The tactics training complex replicates real streets, residential buildings and training compartments for tactical training and use of force exercises, for example handling of suspicious person, serious cases or ad-hoc incidents etc.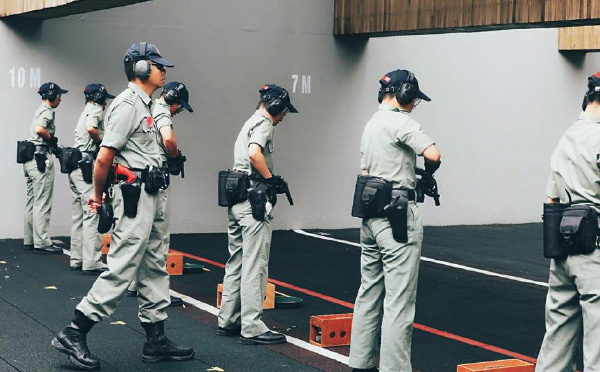 Fire Range
Trainees are required to undergo professional firearm and weapon training in different indoor and outdoor ranges. Officers will continue to attend regular trainings and examinations after passing out from the college with a view to maintaining the professional standard.