The Force Colours Awards Presentation Ceremony cum Flag Presentation Ceremony for the World Police and Fire Games took place at the Police Headquarters on May 10. Commissioner Lo Wai-chung, Senior Directorate Group (SDG) members and many Formation Commanders were present to support the event.

This year, 28 officers won the Force Colours Award for Sports while 10 officers with the Force Colours Award for Arts for their excellence and contribution. Senior Superintendent Yau Sin-man was awarded the Watson Cup as the Outstanding Athlete of the Year while New Territories North Regional Headquarters clinched the Purdon Shield for their remarkable performance in sports. The Fitness Training Room Management Excellence Awards were also presented at the ceremony.

To mark the Force's participation in the biennial World Police and Fire Games, Commissioner Lo Wai-chung handed over the Force's flag to Chairman of the Police Sports Council Mr Cheuk Hau-yip in the presence of over 300 guests and athletes at the ceremony. Mr Lo wished the Force representatives success in the games to be held in Chengdu, China between August 8 and 18. The Force's slogan for the Games is "A Team of Unity. A Pursuit of Excellence."

Force Colours Award for Sports
| | |
| --- | --- |
| Adventure | Chan Ka-yee |
| Archery | Chung Wai-kwan |
| Athletics | Wong Si-chun |
| Badminton | Chow Lok-yi |
| Basketball | Hung Yat-na |
| Bodybuilding | Chung Hung |
| Boxing | Nigel Williams |
| Chinese Wushu | Kwok King-lok |
| Cycling | Law Hong-yu |
| Dragon Boat | Leung Wai-yin |
| Football | Chan Leong-ting |
| Football Referees | Ho Wai-yip |
| Golfing | Pang Ka-po |
| Hockey | So Chun-kit |
| Judo | Choi Chi-hang |
| Karate-do | Lam Sai-fung |
| Lawn Bowls | Lee Kwok-ming |
| Rope Course | Lee Wai-hung |
| Rowing | Wong Wing-wah |
| Rugby | Ngai Shan-shan |
| Shooting | Wong Chin-cheung |
| Snooker | Tsui Kai-yu |
| Squash | Chan Wing-ki |
| Swimming | Yu Sze-wai |
| Table Tennis | Wong Shuk-kwan |
| Tennis | Lau Chun-pong |
| Tenpin Bowling | Ngan Wai-hung |
| Volleyball | Woo Yiu-pui |

Force Colours Award for Arts
| | |
| --- | --- |
| Children Air Cadet Corps 606 Squadron | Lai Wing-hong |
| Children's Scouting Groups | Tsui Wing-lun |
| Chinese Culture Club | Law Shu-pui |
| Debate and Speech Club | Wu Zhen-dong |
| English Club | Ko Chun |
| Magic Club | Wong Hon-leung |
| Model Flying Club | Cheng Ka-fu |
| Painting and Calligraphy Club | Lee Nga-lai |
| Photography Club | Yim Ka-wai |
| Pop Music Club | Hsu Hon-bong |

Fitness Training Room Management Excellence Award
Gold Award
Traffic Kowloon West
Silver Award
New Territories South Regional Headquarters
Bronze Award
Sai Kung Division
Merit Award
(In alphabetical order)
Central District
Shatin Division
Tsuen Wan District
Wanchai Division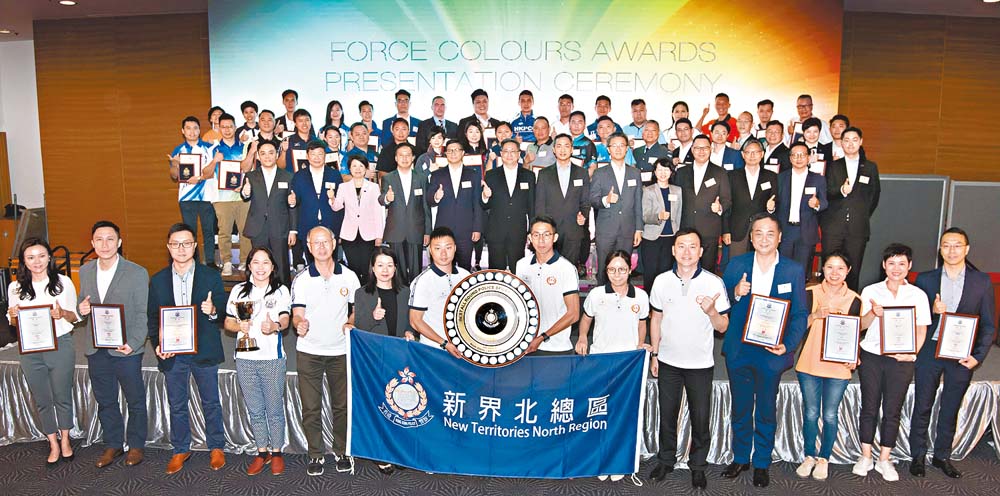 Commissioner Lo Wai-chung (second row, sixth left) and senior officers take a photograph with the awardees