Marine visit for ill SPC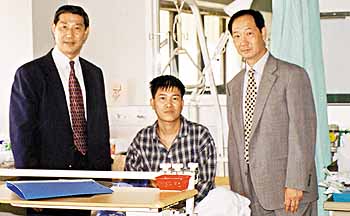 RC Marine Foo Tsun-kong and DC MPDIST Kong Shing-shun visit injured SPC Lo Yan-ming


Marine Regional Commander Foo Tsun-kong and Marine Port District Commander Kong Shing-shun visited recovering Senior Police Constable Lo Yan-ming in Queen Mary Hospital June 5.

SPC Lo suffered a hand injury while assisting Correctional Services staff to restore order during the Hei Ling Chau riot on June 4.

Mr Foo praised SPC Lo for his bravery.