US anti-drug chief urges HK's deletion from blacklist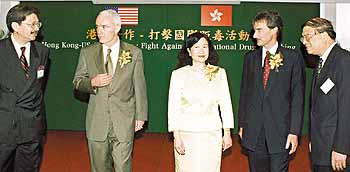 Barry McCaffrey (2nd left) with S for S Regina Ip, CP Eddie Hui and C C&E John Tsang


A senior American official has recommended Hong Kong be removed from the global blacklist of drug-producing and trafficking centres thanks to the top efforts of the Force and other departments.

The recommendation came in the wake of a record seizure of the party drug 'ecstasy' in a raid at a Nathan Road hotel on June 20.

The following day, the director of the United States Office of National Drug Control Policy, Barry McCaffrey, said he would "strongly" recommend the SAR be deleted from the list of major drug-producing and transit points.

Narcotics Bureau Chief Superintendent Henrique Koo Sii-hong was delighted with the move saying Hong Kong's continued inclusion in the list was unjustified given the undisputed fact it was not a drug producer and that sustained efforts by the Force have seen a vast reduction in transhipment cases involving the SAR in recent years.

During his one-day stopover, Mr McCaffrey praised the achievements of the Force and the Customs and Excise Department in recent anti-drug trafficking operations. He also hailed Hong Kong's long-standing co-operation with US law-enforcement agencies before presenting a cheque for more than US$900,000 in seized drug money to Secretary for Security Regina Ip.

The money was half the assets seized in a joint HK-US operation which smashed a hashish smuggling syndicate in 1996. This was the second occasion in which drug trafficking proceeds have been shared between the two, the first in 1998 when US$2.2 million was handed to the US government as part of the assets seized by NB's Financial Investigation Division from a convicted trafficker.

The Yau Ma Tei ecstasy raid saw about 320,000 pills seized and a Dutch man, 34, charged. Mr Koo said the huge high-quality consignment was believed to have originated in Holland and would have generated HK$96 million if sold at retail level. The seizure came as a result of an NB investigation mounted in the wake of recent increases in ecstasy abuse and concern over the growing 'rave' party culture in which the drug is associated.