Plucky Auxie foils $3m robbery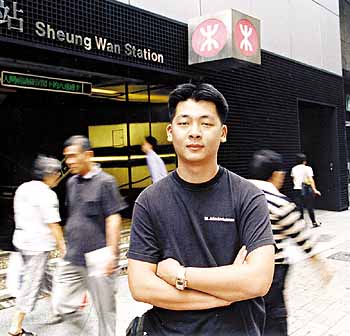 Robber stopper: APC Hung revisits the arrest scene in Sheung Wan


North Point Division Auxiliary Police Constable Hung Wai-ming received a commendation from Hong Kong Island Regional Commander Leung Chi-bun on June 23 for arresting a robber and recovering about $3 million in diamond jewellery.

On May 22, the off-duty APC heard a cry for help while walking past a Sheung Wan MTR exit on Des Voeux Road.

"I saw a man running away with a briefcase being chased by another man with apparent head injuries and pedestrians failed to stop the robber," he said.

APC Hung shot off in pursuit and managed to subdue the robber at a road junction. He handed the culprit and the jewellery over to several Regular officers who rushed to the scene.

Talking about his first arrest in his two years as an Auxie, APC Hung said although he was off-duty and unsure whether the robber was armed, he did not hesitate to help as he felt it was every citizen's responsibility to do so.

"And what's more, I'm an Auxie police officer!" the 26-year-old said.