Diligent duo net exam distinctions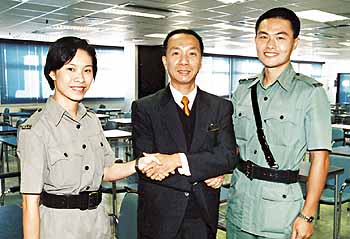 PC power: SP Exam Poon Tsang-kee with Maggie Cheng and Tsui Po-ko
Two studious officers recently landed distinctions in the Police Constable/Senior Police Constable to Sergeant Promotion Qualifying Examination 2000. Kowloon East Emergency Unit Woman PC Maggie Cheng Pui-ling and Lantau North Division PC Tsui Po-ko topped the 2,105 candidates with scores of 70 and 68 respectively.
To prepare for her first promotion-qualifying exam, WPC Cheng said she concentrated on the Police Manual, Force Procedure Manual, Police General Orders, Hong Kong's laws, and analysed exam questions from previous years in debriefing reports circulated on PEN.
"My policing knowledge was greatly enhanced by browsing through the Reference Material (RM) System on POINT with the computers available in the report room and resource centre of my station."
"The RM System is the perfect tool for candidates to get prepared for the exam," she said, adding she consulted Regional Continuation Training Centre instructors whenever she was stuck in a rut.
PC Tsui said: "Aother major key was to study with strong curiosity and unfailing enthusiasm. Try to understand the procedures instead of just memorising the lines. If I am in doubt about certain procedures, I consult my supervisors and colleagues"
The pair, with four and seven years in the Force respectively, were quite surprised with their high scores, adding that they wanted to study hard to better-equip themselves for the job. PC Tsui's devotion to police work led him to sit for his third exam, despite achieving a merit and a pass in the previous two.
"I really enjoy the process of getting prepared for an exam. It gives me great drive to upgrade my professional knowledge," he said. Kowloon East Regional Commander Gordon Fung Siu-yuen gave a congratulatory letter, issued by Assistant Commissioner of Police (Training) Yip Kwok-keung, to WPC Cheng on November 14 praising her outstanding performance.