Drug 'castle' shut down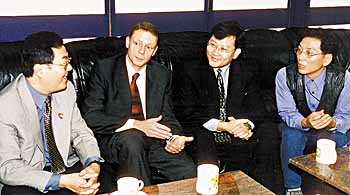 NB CIP Bradley and SIP Wong with the DFCC members
Meticulous work from three undercover officers posing as drug addicts and bank staff, together with Narcotics Bureau know-how, have smashed a sophisticated Sau Mau Ping Estate drug syndicate.
Five of the eight men arrested by NB in 1997, were jailed by the Court of First Instance for up to 16 years each, on January 18, for conspiracy to traffic in dangerous drugs and conspiracy to deal with property gained through trafficking proceeds.
NB Chief Inspector (Financial Investigation Group) Andrew Bradley said the operation was difficult.
"SMP is an old estate, with its design and illegal structures offering drug gangs a favourable environment to run their business. Their high alertness made investigation difficult, so our undercover officers had to exercise extra care and skill to penetrate the syndicate," he said.
Senior Inspector Tiger Wong Hung-fu said the operation's success was partly due to a new strategy adopted by NB.
"We launched a financial probe into the syndicate alongside our investigation into its trafficking. With evidence gathered by our undercover officer at the bank, we were able to prove the defendants were running a large-scale drug business with huge turnovers. That was why the judge imposed such a heavy penalty on the defendants even though only a small amount of drugs were seized," he said.
The three undercover officers, Lung Tsai, Man Tsai and Keung Tsai (pseudonyms) were pleased with the verdict. Lung Tsai, quite experienced in posing as a drug addict, said it was the biggest operation he had ever been in.
"I was astonished by the gang's intensive security measures, with lookouts everywhere. I felt like I was in a castle," he said.
Man Tsai, new to undercover operations, said: "Gang members really gave me the 'third degree' on my first day. They questioned me very thoroughly, but I finally won their trust."
Keung Tsai also had a hard time in the bank because he was responsible for monitoring every transaction of the identified accounts and recovering marked banknotes used by Lung Tsai and Man Tsai in their "controlled purchases".
"On my first day, I came across a teenager who deposited over $100,000 into the identified account. It took more than an hour to count the banknotes. In fact, the syndicate routinely sent somebody to make huge deposits."
Kowloon East Region Senior Superintendent (Crime) Choy Kin-cheung, the former SMP Deputy District Commander, praised NB staff.
"NB's assistance in analysing the situation and in drawing up strategy was needed after we realised drug trafficking in SMP Estate was so well organised and established," he said. "Our aim was to neutralise the gang instead of just making several individual arrests. NB provided adequate manpower for long-term surveillance, financial investigation and the large-scale undercover operation. It was very fruitful and we got valuable experience from it. We have reviewed our own anti-drug strategies and the results of recent operations are encouraging."
Kwun Tong District Fight Crime Committee Members Benjamin Kwok Bit-chun and Wong Kai-ming commended the courage and professionalism displayed in the operation.