Force greets Lion City visitors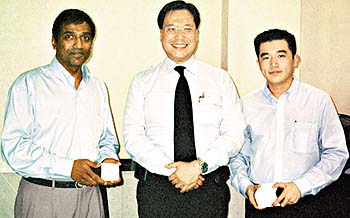 CSP PR Charles Wong with guest Singaporean officers
Two Singapore Police officers were attached to the Police Public Relations Branch from June 4 to 8. The Public Affairs Department officers met Chief Superintendent Charles Wong Doon-yee and his PPRB team, and sampled the operations of the News Room, TV and Film Liaison Section, OffBeat and other sections.
Meanwhile, 17 students and two teachers from the Singapore National Police Cadet Corps visited Hong Kong from June 2 to 7. They visited PPRB and were briefed on the structure of the Force and the JPC scheme before a trip to the Western District JPC Clubhouse.
They saw the Police Museum, and an elderly home on Cheung Chau to understand the routine operation of the JPC and learn more about their participation in social services, showing great interest in the Police launch that ferried them to there.
Lastly, nine delegates from the Singapore National Crime Prevention Council visited the Crime Prevention Bureau on May 14 and 15.
They were briefed on the Force's crime prevention capabilities, and they looked closely at the work of the Architectural Liaison Officer and concept of using environmental design to prevent crime. It was the Council's first visit to CPB and they were enlightened by the trip.



<< Back to Index >>