Courageous KE officers commended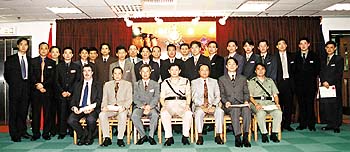 RC KE Edward Mak with the commended officers
Thirty-five Kowloon East Crime officers were handed Commanding Officer's Commendations by Regional Commander Edward Mak Man-poon on May 18, for their outstanding performances in several undercover operations and detections including murders and kidnaps.
KE Senior Superintendent Crime Choy Kin-cheung also praised the officers, saying: "The successful detection of these serious cases was mainly attributed to officers' enthusiasm, devotion and self-motivation, together with assistance from other formations.
"Serious crime investigations are always complicated and time-consuming. Our officers fully understood how the victims' family felt and their compassion drove them to overcome all hurdles including physical and mental exhaustion. I am impressed by their outstanding performance."
Mr Choy stressed the importance of creative thinking in crime investigation.
"As a team leader, we should encourage our team-mates to have creative thinking so they can create new ideas, which is so important in crime detection. Although we are open-minded about adopting new investigation methods, we always stick to the rules and regulations and prioritise the victim's safety."
Apart from bringing criminals to justice, successful detection of serious crimes also helped the Force maintain its professional image.
"Officers involved in the cases can also enhance their investigation skills and enrich their experience," Mr Choy said.
"Having handled so many serious cases, I realise it is almost impossible for us to eliminate all the injustice in the world. But that's why our society needs us to maintain law and order. Therefore, we should stay tough in the fight against crime."



<< Back to Index >>