Crime scene caution called as DNA detection starts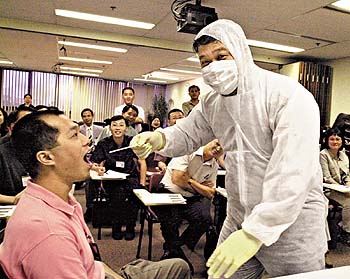 Giving cheek: Crime Wing CIP William Ho shows officers how easy it is to take swabs from the mouth
"DNA is our first new crime solving tool in 100 years"
Frontline officers must take extra care at serious crime scenes to ensure delicate DNA evidence can be properly collected.
This was the call from Chief Superintendent Crime Support Ian Mackness who wants a more cautious crime-scene culture to develop with the onset of the Force's first major crime-busting ally in 100 years - DNA sampling.
Teams of 10 to 12 officers would start duties in each Region on July 1, collecting DNA from scenes and from people, such as suspects. The Identification Bureau teams would be made up of 57 Scene of Crime Officers (SOCOs) recently trained by Government Laboratory experts to find and handle DNA evidence.
As DNA was easily contaminated, Mr Mackness appealed for officers arriving at a scene first, to take proper precautions to preserve the area.
"DNA is our first new crime-solving tool in 100 years. Not since fingerprinting was introduced in 1901 have we seen anything of this significance come along, so all officers must now be aware of this technology and of its importance," he said.
"It is critical they adopt top professional standards such as cordoning and preserving the area which should now be among an officer's top five priorities when entering a crime scene. You must save people's lives, of course, that comes first. However, detection and prevention is our second role after preservation of life and property, and DNA sampling is the biggest development in detection in a very long time.
"Proper conduct at the scene is essential to solving the crime as quickly as possible."
Crime Wing Headquarters Chief Inspector William Ho Siu-ting added: "Once any threatened lives are out of danger, there must not be any smoking, nothing should be touched and officers should wear appropriate clothing until the SOCOs have examined the area."
Legislators passed new laws last year empowering officers to take DNA samples from suspects arrested for serious offences. The laws come into force on July 1.
Mr Ho said a personal sample was most easily and commonly obtainable through a simple swab of the inner cheek.
"In the vast majority of cases this simple non-intimate sample will be adequate for normal DNA analysis," he said, adding that body fluids or secretions such as blood, semen, sweat and skin oils could provide DNA evidence from a crime scene. A matched or unmatched sample could irrefutably link a person to a crime, or clear them of suspicion.
Mr Ho and Crime Wing Senior Inspector Albert Ho Wai-hong have been briefing case officers in each Region on procedures and guidelines in the proper collection and handling of DNA samples, finishing with a seminar of about 30 Kowloon West officers on June 6.
Albert Ho stressed at the seminar that DNA would not see the end of fingerprint evidence.
"The United Kingdom has been using DNA very successfully since 1986, yet fingerprints still play a prominent role in solving crimes. This shows that DNA and fingerprint evidence complement each other to provide solid evidence.
"Before the approval of this new ordinance we could only take DNA samples from a suspect, such as through hair or fingernails, with their permission. We have had the technology to conduct DNA analysis for quite a while, but from July 1 Police are actually empowered to take non-intimate samples, such as the mouth swabs, from a serious-crime suspect."
A highly contentious subject in some countries, ample guidelines have been established by the Force to ensure that human rights and privacy of those undergoing DNA tests here would not be infringed.
The DNA database would be locked up in the Government Lab and be accessible only by its staff who would know the samples by code rather than by a person's identity.
The hi-tech computer comparison equipment and database was the same one used by the FBI in the United States.





<< Back to Index >>