Further ties with Mainland police secured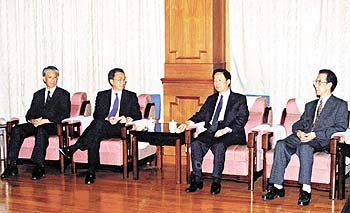 CP Tsang Yam-pui and D C&S Louis Lau meet public security officials in Beijing
Enhanced co-operation in training, intelligence and technical exchange are some of the improvements proposed during the Commissioner's recent talks with Mainland officials.
CP Tsang Yam-pui led a Force delegation of six on a nine-day Mainland visit on May 23, his first since taking up the top post. The delegates included Director of Crime and Security Louis Lau Chun-sing, Director of Management Services Gordon Fung Siu-yuen, Senior Superintendent Liaison Bureau Ma Wai-luk, Personal Assistant to the CP Sammy Wong Chui-hoi and Hung Hom Assistant Divisional Commander Crime Chan Man-mo.
During a meeting in Beijing with Zhu Entao, Assistant to the Minister of Public Security and Head of Interpol National Criminal Bureau China, bilateral co-operation over the last six months was reviewed and strategies to tackle cross-boundary crime were discussed. Both sides agreed mutual co-operation on training, intelligence and technical exchange in crime investigations should be further enhanced.
Stressing the importance of bilateral co-operation to maintain law and order, Public Security Minister Jia Chunwang commended the two sides for their joint efforts.
In Dalian the delegation met Municipal Vice Mayor Liu Changde and Municipal Public Security Director Sun Guangtian. They also visited a police station, custodial institute, traffic command centre and a mounted-police training school.
The delegation then visited the China Criminal Police College in Shenyang and was briefed on its advanced laboratory equipment. They met Liaoning Provincial PSB Vice Director Zhuang Min and visited an immigration control centre and a PSB command centre.
In Nanhai, the delegation met Guangdong Provincial PSB Director Liang Guoju to review cross boundary co-operation. CP Tsang and Director Liang agreed that a task force should be set up to exchange information on cases involving firearms, enhance co-operation on ballistic examination, exchange information on suspects and enhance cross-boundary interceptions.
Other matters such as organised cross-boundary crime and drugs were also discussed, and both sides were satisfied with the outcome of recent joint operations. They agreed more similar operations should be conducted regularly.
Lastly, the delegation met Shenzhen Municipal Public Security Director Zhang Yongqiang to discuss drug issues.



<< Back to Index >>