Let's learn Putonghua!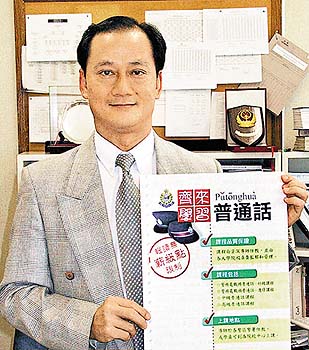 Mandarin master: SSP TDB Chiu E-ping with some Putonghua promotion materials
The Force Vision and Statement of Common Purpose and Values promote effective communication with the public to uphold their confidence in us and enhance our professionalism. With this, language training is necessary.
The Civil Service Training and Development Institute (CSTDI) and Training Wing's Training Development Bureau (TDB) have jointly developed job-related teaching materials to equip officers with sufficient Putonghua for operational needs. They were compiled according to Laws and Police Procedures, and were based on real life police experiences, such as stop and search operations.
To further improve the management and quality of courses, TDB has appointed the Polytechnic University's Chinese Language Centre and City University's School of Continuity and Professional Education to conduct the certificate courses for frontline officers. There will be no restriction on the length of service, performance and salary point in applying for those courses. Salary point restrictions would be removed for applications for intermediate and advanced Putonghua courses organised by the CSTDI.
Five more training venues; the Main Building of Hong Kong University, Ko Shan Theatre, the Methodist Centre, the Taikoo Shing Learning Centre and the Chinese University Tsim Sha Tsui Learning Centre, were now also available, giving officers more choices in studying the language and promoting life-long learning.



<< Back to Index >>