Expert seminar on assessing anti-youth crime initiatives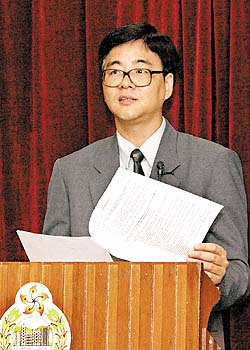 Professor Daniel Shek at the seminar
Almost 100 frontline police managers attended a seminar on youth crime by a social work expert on June 9.
Chinese University Professor Daniel Shek Tan-lei spoke at the seminar at the Police Officers' Club, on how the Force could evaluate the effectiveness of its multi-agency projects in tackling youth problems.
Professor Shek was the Chairman of the Society of Boys Centres Executive Committee and served on several government advisory committees such as the Fight Crime Committee and Action Committee Against Narcotics.
Opening the session, Director of Operations Ng Wai-kit said: "During the past two years we have launched more than 50 multi-agency projects at District level to tackle youth problems, of which some 40 remain in operation. I am sure you are all aware of the importance of evaluation in these kinds of projects. However, we are not trained in this field, so we have invited Professor Shek to share with us his expert knowledge in the evaluation of multi-agency projects."
The seminar covered common evaluation problems, their causes and solutions, useful evaluation methods and the expertise involved.
Professor Shek took questions from attendees and attended a working lunch with Mr Ng along with representatives of the Crime and Support Wings.






<< Back to Index >>