Tuen Mun officers meet schools and parents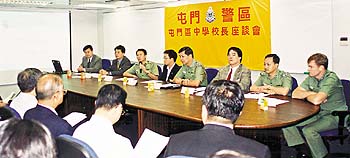 District Commander Au Hok-lam and the Tuen Mun team at the youth crime briefing
Scores of secondary school principals and teachers joined Tuen Mun officers at an anti-youth crime seminar on June 6.
Tuen Mun's District Fight Crime Committee and Federation of Parent-Teacher Association, and the Social Welfare and Education Departments also joined in the discussion on co-operation among parents, schools and Police in preventing youth crime.
Seminar host TM District Commander Au Hok-lam thanked participants for supporting Police and answered their questions. Other TM officers briefed participants on youth crime prevention strategies, the District's crime situation and the Secondary School Liaison Officer Scheme.
Headmasters and teachers eagerly expressed their views and discussed the future direction of co-operation with parents and Police. They also pledged to support the Liaison Officer project.
The seminar allowed the Force to gather valuable views from participants in formulating and implementing initiatives to prevent youth crime.



<< Back to Index >>