Rita Fan addresses JCC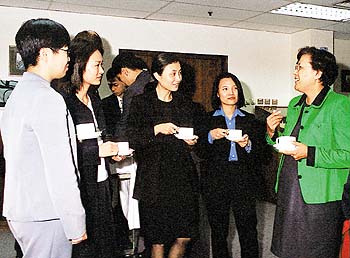 Coffee cap-off: Legislative Council President Rita Fan chats with JCC officers after her seminar
The Junior Command Course (JCC) recently broke new ground when Legislative Council President Rita Fan held a two-hour discussion on local current affairs and politics.
JCC Course Director Chief Inspector Higher Training Mike Holubowskyj said although legislators had spoken with course participants previously, the discussion, held at the Police Officers' Club on June 8, marked the first time a LegCo President had taken part.
"While it is extremely important the Force remains politically neutral, it is equally important that officers are aware of what is happening in the society they police. To have two hours of chatting with the LegCo President in an informal setting was an invaluable opportunity for them to broaden their knowledge of current affairs. I am extremely grateful to Mrs Fan for being so receptive to our invitation," he said.
JCC participants were Inspectors with about five years' service in the rank. Some 10 JCC courses, each made up of 12 participants and one guest from another department, were held every year. The course enhanced their administration and managerial skills and updated them on police matters and current local issues.
Impressed with the calibre of officers participating, Mrs Fan said: "The course had been open, lively and showed a high degree of intellectuality."
Course attendees were equally positive, with the Criminal Intelligence Bureau's Monica Au Yeung Mun-yee hailing it as a "frank and open discussion". Meanwhile, guest participant, the Government Flying Service's Erik Young Sei-lap, added: "It was an honest, clear personal statement from Mrs Fan and was very useful and enjoyable."



<< Back to Index >>