KE launches eco-drive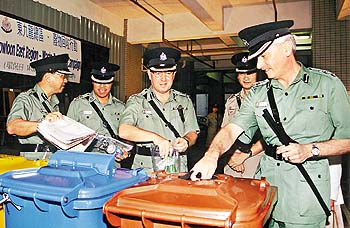 "Bin it, boys": Senior KE officers sort paper, plastics and other junk to dump them in the appropriate bin for recycling
Kowloon East Region began its waste-recycling scheme on June 5, the World Environment Day (Eco Day).
Regional Commander Edward Mak Man-poon officiated at the KE Regional Headquarters ceremony, which saw the distribution of different coloured bins to formations across the Region to segregate waste for recycling.
The bins, acquired through the Environmental Protection Department and the Environmental Campaign Committee, separate paper, aluminium and plastics for collection by recycling contractors.
The move was among other green measures being introduced, such as reducing electricity and water consumption, and improving air quality and environmental awareness of staff, which have also received strong support from Mr Mak and senior officers.
KE Region Green Management Committee Chairman, Sau Mau Ping District Commander Anthony Au Yiu-kwan, encouraged all staff join in.
"Green management and environmental concern is the responsibility of every Force member. The Region's Green Campaign will only succeed with the support of all officers in all formations."
Wong Tai Sin District Commander Ian Tyzzer, a huge supporter of green management, agreed.
"Schemes to protect the environment will only produce positive results if all officers are fully committed in offering their valuable support.
"Enhancing staff awareness through education and publicity is crucial to the success of the Region's green campaign."
Mr Tyzzer called on staff in all formations to lend their support to the initiatives and help the Force set an excellent example in waste management and environmental concern.



<< Back to Index >>