PDU set for new Sha Ling home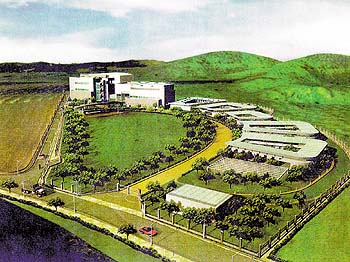 Grand green grounds: An artist's impression of the new PDU and KPS facilities at Sha Ling
More than two hectares of grounds and a host of modern facilities will soon provide a new headquarters for the Police Dog Unit in Sha Ling.
Right next to Border District Headquarters, Sha Ling will feature the latest dog training and breeding facilities.
A team of officers headed by Planning and Development Branch Superintendent Carmen Lo Ka-man has taken up the project.
P&D Chief Inspector Stephen Chu Chi-pak said PDU would share the complex with the Key Points and Search Division, with facilities being purpose-built to meet the operational and training requirements of both units. Police dogs with their skills in patrolling, and drug and explosive detection, are playing a bigger role of late, with demand for their services increasing with Hong Kong's hosting of more large international events.
The move will offer PDU better-designed kennels, a large outdoor training area, advanced quarantine kennels, a breeding centre and an advanced veterinary unit. Plenty of trees and bushes will be planted on its grounds and solar energy will be used.
"The joint re-provisioning of the two units will be cost-efficient as they can share some logistical facilities with the adjacent Border District Headquarters, such as the canteen, laundry and armoury," CIP Chu said.
Having attended the Legislative Council Public Works Sub-Committee meeting on May 31, which recommended the subsequent endorsement of funds for the project by the Finance Committee, P&D Chief Superintendent Barbara Willison said the new facility will bring about major benefits for PDU and KPS.
These will be in the form of two three-storey buildings with ancillary facilities.
These will consist of office accommodation, classrooms, indoor training facilities, outdoor exercise areas and a training field, plus kennels and veterinary facilities.
Assistant Commissioner Operations Cheung Chi-shum also expects the new base will help PDU and KPS further improve their services to the community and the Force.
The formations moved into a temporary base at the former Government Flying Service facilities at Kai Tak on June 26, where they will remain until Sha Ling opens in late 2003.
Construction is due to start in December. They moved after the recent closure of Queen's Hill Camp, originally an army camp that was converted in 1995 to accommodate PDU and KPS.
PDU Chief Inspector Charles Kong Cheuk-chau said he and his team will miss the camp's spacious green grounds.
"The environment at Queen's Hill was great and the large outdoor area was perfect for dog training. However, the facilities inside were rather outdated, so we are happy to move to a more modern base."
To meet operational needs, the temporary base required some basic renovation work such as the building of kennels and the planting of grass.
"Compared with Queen's Hill, the indoor facilities in our temporary base are more modern. With better kennels and cleansing facilities, we can minimise illness amongst the dogs and further ensure PDU's efficiency and professionalism."
Although the indoor facilities are better, there is less outdoor exercise space, however this will be resolved with the move to the permanent site at Sha Ling.
"The base will be built with suitable materials to ensure the occupational safety of our colleagues and the health of the dogs," CIP Kong added.





<< Back to Index >>