CCIII ushers in a new era in police communications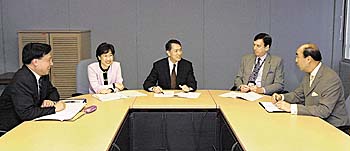 Communications panel: D OPS Ng Wai-kit discusses the CCIII package with senior officers
Force communications are moving with the world into the 21st Century through the planning of the next-generation command and control system or CCIII.
Legislators endorsed $948 million for the system on June 22, with tendering and award of contract scheduled before next April. The system is due to go live on Hong Kong Island and in the New Territories in 2004, followed by Kowloon the following year.
The system will replace CCII, which reaches the end of its serviceable life before 2004. Director of Operations Ng Wai-kit said CCIII will use the latest technological developments to maximise operational efficiency.
Mr Ng said the system comprised the Beat Radio System, the 999 Emergency Services Telephone Sub-system, the Computer Assisted Command and Control System, a Mobile Computing Sub-system and an Automatic Vehicle Location System.
"Beat patrol officers will be provided with a smaller and lighter beat radio with voice capabilities, the ability to receive short text communications and a mobile phone function enabling officers to make lengthy reports without taking up valuable radio air time.
"Officers from beat patrols, Emergency Units, Police Tactical Units and Traffic will be able to talk to one another readily through a simple process. This will greatly enhance communication during operations."
CCIII beat radios will also expedite checking processes by allowing direct access to various information systems such as wanted or missing persons, missing or stolen vehicles and forged identity card files.
A new digitised and encrypted transmission platform will greatly hinder eavesdropping and unauthorised access. And in the event of the radio being lost or stolen, it can be disabled to safeguard stored data from being accessed and tampered with by anyone unauthorised.
"Mobile data terminals with voice and data communications capability will be carried aboard emergency response vehicles, effectively making them mini-command or report centres at scenes of major incidents," Mr Ng said.
"Automatic Vehicle Location Systems will also be fitted to these vehicles to allow Regional Command and Control Centres to instantly obtain a vehicle's location by way of illuminated electronic maps installed in RCCCs."
"This will facilitate prompt and effective deployment whereby safety of frontline officers can be enhanced."
The new 999 sub-system in the RCCCs will provide a speedier response by allowing any overflowing emergency calls to be readily redirected to other consoles and by increasing the overall capacity of the system, making up to 10 further call takers available.



<< Back to Index >>