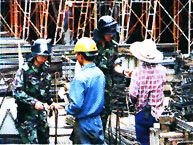 Police Powers of Detention, Stop and Search
This is a general guide for information of the public. It is not intended to represent the precise legal position, and should therefore not be used as a basis for any final decision on the merits of police action in these areas. Those persons seeking further information on this subject may obtain assistance at any police report room.
Checking of Identification Documents
Stopping & Questioning
Every police officer has the power to question any person about a crime or offence.

A police officer has a general power to stop and question any person behaving suspiciously. Whilst doing so he may demand proof of identity, conduct computerised enquiries and search for weapons or drugs.
Caution
If a police officer has evidence which would afford reasonable grounds for suspecting that a person has committed an offence, he shall caution that person before putting to him any questions, and remind him that what he says will be written down and might be used in evidence.
Searching
If a police officer finds any person whom he reasonably suspects of having committed or of being about to commit or of intending to commit any offence, he can search him/her for anything that is likely to be of value to the investigation of any offence that the person has committed, or is reasonably suspected of having committed or of being about to commit or of intending to commit.

Without prejudicing operational efficiency, a police officer will inform a person of the reason for a search and the intended scope of the search, prior to conducting a search.
Access to Information/ Data Access