Secretary for Education (SED) Mr Kevin Yeung inspected a passing-out parade of the Special Basic Training Course of the Hong Kong Auxiliary Police Force (HKAPF) at its headquarters on August 25. He reviewed 82 post-secondary students who became auxiliary police officers on their completion of intensive training and assessment.

Speaking at the parade, Mr Yeung said more than 1 800 post-secondary students had been recruited under the Auxiliary Undergraduate Scheme in the past 15 years. The scheme provided valuable training and work opportunities for the younger generation in Hong Kong to develop their leadership and management competency, and most importantly, foster their enthusiasm and sense of responsibility in serving society and contributing to Hong Kong.

Mr Yeung praised the students for their passion in serving the community as auxiliary police officers amidst their busy study schedule. He said, "As police officers, you must be determined to serve the public and maintain law and order in a fair and impartial manner; respect the rule of law and uphold the values of integrity and honesty. I wish all of you a bright future, contributing to the nation and the community in different capacities."

Other guests attending the parade were Director of Operations Tang Ping-keung and Assistant Commissioner (Support) Lam Hiu-tong.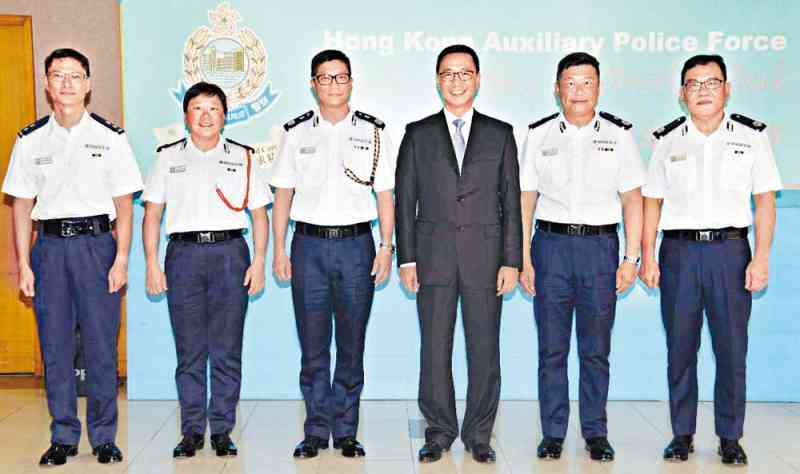 Mr Kevin Yeung (third right), Tang Ping-keung (third left), Commandant of HKAPF Yang Joe-tsi (second right), Lam Hiu-tong (second left), Deputy Commandant of HKAPF Cheng Man-sum (first right) and Acting Senior Superintendent of Auxiliary Support Bureau Wang Tak-wing (first left) take a group photograph after the parade