Hong Kong Police rule the waves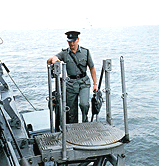 ˇ@
Not just another day at the
office. SIP Simon Hannaford
boards the Independence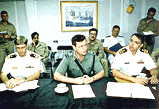 As US Navy Lieutenant
Steve Shapro (right)
looks on, SIP Hannaford
briefs visiting American Navy
officers on a myriad of do's
and don't's while in Hong Kong.
Everything from information on
Hong Kong Police procedures
and crime prevention advice, to
avoiding altercations with
triads, to the price of the Star
Ferry, to making sure to
check that an ATM machine
in Hong Kong will accept your
credit card. "If it does not and
it seizes your card - it will be
returned to you via your home
country"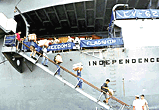 Never-ending stream of
sailors headed for the shores
of Hong Kong.
IT'S Independence Day.
In the waters just kilometres away from Fenwick Pier in Wan Chai, one of the most sophisticated weapons systems on the planet drops two 30-tonne anchors. On board are 70 jet fighters and assorted aircraft - plus 5,000 US Navy personnel. The USS Independence, at 300 metres in length, dwarfs the huge cargo ships that sail respectfully past.
"Freedom's Flagship" is a self-contained city with its own ATMs, 50-bed hospital, television station (Indy TV) and newspaper (The Declaration). The carrierŐs flight deck area is 4.1 acres. Over 380,000 gallons of fresh water is produced each day, while 200,000 pounds of laundry is washed per month.
With seven other battleships and two submarines, the Indy has arrived from open sea manoeuvres to disgorge its crews for a little R&R in Hong Kong. About 8,000 American sailors (who will spend over HK$30 million in under five days) are about to hit the territory's shores.
One man stands between the fleet's 8,000 servicemen and Hong Kong - SIP Simon Hannaford of Ops Wing, Police Headquarters.
Under the UK's Visiting Forces Act, all foreign military personnel visiting Hong Kong come under the provost or authority of the Commander of British Forces, who has the right to police all military forces in the territory regardless of their national origin. Until recently, the duties of the Royal Military Police included briefing, supervising shore patrols and generally liaising with visiting naval forces.
With the handover a week away and the dwindling British Forces in a state of withdrawal, since April 1996 the Hong Kong Police have taken over their role in terms of liaising with visiting foreign militaries.
"Under RHKP's Operations Wing, we have more or less assumed the job of the Royal Military Police and provide the services they once did to all visiting forces. Today, the Hong Kong Police is responsible for all military liaison. It is through us that the RHKP officially makes contact with all visiting military forces,Ó s ays SIP Hannaford who, together with US Navy Lieutenant Commander Steve Shapro, is aboard a small launch heading for their briefing session with the US fleet.
This is the last time that the US Navy will enter Hong Kong waters under British rule. "After the handover there will be some minor alterations, but as far as Ops Wing, the Hong Kong Police and the visiting forces are concerned, it's business as usual,"adds SIP Hannaford.
Right now, the RHKP's duties fall mainly into two parts: briefing foreign naval personnel when they land here; and then liaison work with regard to shore patrols.
It's SIP Hannaford's job to brief arriving foreign naval personnel about Hong Kong, its laws and regulations, its police force and police procedures, what should happen if there's an arrest, what to do in case of an emergency, as well as providing crime prevention advice and useful tips like passengers have to pay double the tunnel fee when crossing the harbour. You'd be surprised how many arguments between taxi drivers and sailors that little bit of information has prevented.
Senior Inspector Hannaford has briefed naval servicemen on French, Australian, Canadian, Thai and other South East Asian vessels. Most of those navies support small crews of 90 to 150 personnel, who don't tend to mount shore patrols. The largest, by far, is the US Navy with over 60 ship visits a year - that's more than 60,000 sailors coming into Hong Kong on an annual basis. Over the past decade there have been relatively few arrests of US Naval personnel, which says a lot about the US Navy, but also about the shore patrol liaison duties performed by the British Military Police - and now the Royal Hong Kong Police.
Says US Navy Lieutenant Commander Steve Shapro, who runs the American Navy's Supply Corps in Hong Kong and is stationed at Fenwick Fleet Arcade, Fenwick Pier: "The US Navy takes shore leave very seriously. We have facilities, and provide a variety of activities, for our personnel to partake of when in the territory. But we never forget that we are guests in Hong Kong so our servicemen and women are instructed to behave themselves in no uncertain terms.
"At the same time, the US Navy has learned a lot from the police in Hong Kong. We appreciate their way of removing a problem from the street quickly - then resolving it at the police station. Now, if our Shore Patrol officers see a potential problem developing that involves US Navy personnel we will get it off the street before it gets out of hand."
Usually three days before the US Fleet arrives, their Shore Patrol officer, his assistant and their legal advisor are flown into Hong Kong aboard one of their own aircraft. They are given an orientation tour of the city and are taken to the Wan Chai and Tsim Sha Tsui police stations (two favourite Districts of foreign sailors) to meet RHKP personnel and to discuss policing and the deployment of Shore Patrols for maximum effect. SIP Hannaford also takes them through RCCC HKI where they are shown the Force's 999 Emergency system. The information acquired is then used to brief the Shore Patrol personnel.
Foreign naval Shore Patrol members are not armed and they have no enforcement powers in Hong Kong. "They are there strictly as a deterrent to their own servicemen," says SIP Hannaford. "And they are successful as deterrents - which is what we want. If they see a situation developing, the RHKP accept that they can step in and stop, say, a fight.


"After the handover, the roles will be reversed. When a British warship visits, we will treat them as a visiting foreign warship."
"All visiting forces are clearly instructed that there are no exemptions from Hong Kong law. Police reserve the right to deal with offences against the laws of the territory. However, some minor offences we allow the visiting forces to deal with under their own regulations - the punishments handed down are often more severe than those given by Hong Kong magistrates."
SIP Hannaford sees the RHKP's duties of briefing foreign naval personnel before they land here, and then liaison work with regard to Shore Patrols, as beneficial to visiting navies, as well as in the best interests of Hong Kong. "If people are made aware of the kinds of situations in Hong Kong, if they're given details of how to travel around, given crime prevention advice, and so forth, then it will make the visit go much more smoothly for both sides,"he said. "They will enjoy themselves - and we won't have to turn up every ten minutes to arrest sailors or whatever. Everybody's happy and that's what we're aiming for."
After the handover when China resumes sovereignty of Hong Kong, it will have three patrol craft based here and will be treated as the British Navy is at the moment, in that they fall under the provost and control of the Chinese Military and will obviously not be subject to supervision by the Hong Kong Police.
"All other visits by foreign militaries will have to be cleared by the new Chinese Foreign office in Hong Kong," says SIP Hannaford.
"Once that's done, we see the arrival of foreign forces in Hong Kong as very much a law and order issue. Therefore we would like to continue the supervision of Shore Patrols, the briefings, etc. Business as usual."