Information Systems Wing Fun Run ¢w"Fantastic"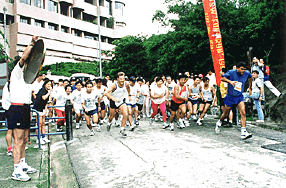 ¡@

LAST month, the Information Systems Wing organised its first Fun Run over a 4.3K course in Tai Tam Country Park. ACP ISW Peter Halliday officiated the start of the run by striking the gong borrowed from the GO's Mess and activating the race's 80 runners.

The winners were presented with trophies and medals by DMS Mr Ching Kwok-ho and Mr Halliday. Mr Ching stated that it was great for ISW to have their first Fun Run, and praised the event's organisers, but admitted it was difficult to ascertain the true age of many women in the race.

The winners of the Men's Open (SIP Rupert Utley) and the Men's Senior (SSgt Yau Wai-man), both very experienced runners, commented that it is a very good route for running ¢w except it was a bit slippery due to the mist.

Those who completed the fun run but didn't receive their certificate can contact the organiser of the event, SP Clara Ng: 2860-2099.


Cross-country sport adventure is a horse of a different colour

SERGEANT Ronald Lam Wai-keung of Crime Wing, HQ, and Sergeant Lee Wing-wah of PTU, HQ, experienced first-hand the life of cowboys when they took part in a cross-country adventure sport competition in Salt Lake City, Utah.

Of the ten participants representing Hong Kong in the US competition, only Lam and Lee are members of the Force.

Entrants of the event had to complete all five sections of the competition which included water rafting, dirt bike (motorcycle) racing, mountain bike touring, four-wheel drive contention and, believe it or not, horseback riding. Each section lasted a whole day.

Sgt Ronald Lam Wai-keung, a member of the Police Motoring Club, finished as Hong Kong Team champion, while Sgt Lee Wing-wah ended the exhausting five-day competition as second runner up. In the dirt bike and mountain bike competitions, Lam took first and second place respectively.

Recalling the competition, Sergeat Lam said the most gruelling event was the four-wheel drive contest in which he and Lee drove together, climbing up rocky hills at 45 degree inclines and negotiating harsh desert terrain. "The desert temperatures between day and night varied from one extreme to the other and were very hard to get used to and withstand ¢w especially for the Hong Kong competitors."

And although Sergeant Lam placed fourth in the horseback riding competition, it was definitely the most challenging of all five events. "I'd never ridden a horse before and the animal I was assigned was extremely tall," he recalled with a laugh. "Despite the intensity of some of the events, in the end the best thing about the competition and the trip were the people. We all made a lot of new friends."


Tenpin Bowling

PLAYERS of the Police Tenpin Bowling Club did remarkably well in the 40th Hong Kong Festival of Sports Tenpin Bowling Championships.

The two-day event, held on May 24 and 25, fielded a total of 16 Force players who competed in the Inter-Centre Challenge Cup, the Team Event and the Individual Master Final.

More than 20 teams bowled for the Inter-Centre Challenge Cup ¢w with the Police Tenpin Bowling Club, led by its chairman, Airport District Commander James Wong Ka-sing, coming out on top.

Team members included Yuen Long Senior Police Constable Spencer Lok Shui-ching, Field Patrol Detachment Senior Police Constable Johnny Kwan Shek-hoo and Sau Mau Ping Police Constable Albert Au Kwok-hung.

In the Team Event, despite tough competition, Force members took first runner-up. Players included: Cheung Sha Wan Senior Inspector Tony Wai Ngan Wai-hung (vice-chairman of the Club), Kwun Tong Senior Police Constable Ken Hui Fu-keung, Happy Valley Senior Police Constable Anthony Au Kin-ho, and Police Communications Officer Anna Pang Shui-lin.

Of the 24 players vying for the Individual Master Final, six were members of the Force. Among them, Hung Ling-sum, PT II of Criminal Records Bureau, was representing the Force for the first time. He placed third runner-up. His average score in 16 sections was a phenomenal 199.

SPORTING NOTES
THE HK POLICE AMATEUR BODYBUILDING WEIGHTLIFTING AND POWERLIFTING CLUB
A large number of officers have expressed an interest in forming a bodybuilding/weightlifting club within the Force. The aim of the club is to promote fitness of officers, and provide proper instruction on such issues as the use of equipment and information on nutrition. All those interested in joining the club please call Peter Au: 2860-8342.

ANNUAL FORCE SHOOTING COMPETITION
Top guns of the Force are welcome to participate in this year's Annual Force Shooting Competition between 1 September and 31 October.

Organised by the Weapons Training Division, this is a major Force sporting event open to all serving officers qualified to carry arms. Participants will compete for eight trophies.

Four of them are team trophies, namely the Sir Robert Black Trophy, DCP OPS's Trophy, Thorpe Trophy and DPT's Trophy.

The four individual trophies are: Commissioner's Cup, DCI's Cup, Lomas Cup and DMS's Cup.

The preliminary rounds of this year's competition begin on 1 September for three days at May House Indoor Range and Kowloon East Operation Base Range. The semi-finals will take place at Arsenal House Range on 17 October. The finals will be held at PTU HQ on 31 October.

The competition includes both team and individual events for officers of the Uniform Branch and crime stream as well as categories for specialist units.

Each district or formation should form up a six-player team and each member of the team can compete for individual trophies.

Full details of the various events including dates, times and courses of fire as well as entry forms, can be obtained from the District Staff Relation Officer.

The closing date for entries is 4 August. Late submissions will not be considered. Enquiries can also be made to the Firearms Instructors Supervisor D T Stanfield: 2860-3425.

BOOKING OF PSRC SOCCER PITCH
PLEASE be informed that the PSRC Soccer Pitch is now open for Formation/District booking (every Tuesday to Friday) on a first-come-first-serve-basis. The charge is $150 per two hours. For booking, please contact SIP Wong Kam-suen, AM PSRC: 2319-0003; or S/Sgt Yeung Chi-fai, Club Co-ordinator: 2319-0011.

RE-OPENING OF SWIMMING POOL: POLICE SPORTS AND RECREATION CLUB
The renovation of the PSRC Swimming Pool has been completed and is now open. Members are free; Non-members: $20 per person. Club Members are reminded that the swimming pool is reserved for members only on Saturday, Sunday and Public Holidays during the hot summer months between 1 June and 30 September inclusive. No guests allowed during this period. Members shall not allow their membership card to be used by any other person as the card is not transferrable as stipulated in PSRC By-Laws 39. Breach of this By-Law will result in automatic suspension of membership for a period not less than six months.

PHQ GYMNASIUM
Consideration is being given to purchasing more equipment for the fourth floor gym in Arsenal House. There are dozens of officers who use the facilities at all times of the day making the gym a bit crowded causing queues for using the equipment. Sports & Recreation Division is looking into the matter and hopes to effect the changes in the not too distant future. Force members will be kept informed.

PTI SECTION AT PTS
Applications are invited from suitably qualified male or female officers interested in becoming a Physical Training Instructor at PTS. Applicants should be fit, non-smokers who have attended PTU and also the PTI's course, as well as possessing relevant first aid and life-saving qualifications. Applicants are required to attend a one-day selection exercise at PTS involving fitness, swimming, life-saving and other aptitude tests. Those interested should consult HQO 50/97 Part V, and submit applications to C PTS (Attn: SP CTS), copied to CP (Attn: SP JPO).

MEDICAL CHECK-UPS
The Helen Lee Siu-foon Institute of Sports Medicine is again offering its services to Force members and their families. The clinic is in Sha Wan Drive, Sandy Bay. Those interested in any of the four tests (Osteoporosis Bone Density Test; the General Health Check; the Comprehensive Health Check; and the Complete Physical Health Test), can contact Assistant Force Welfare Officer, To Ming-yin, at Personnel Services Branch HQ: 2804-1109.