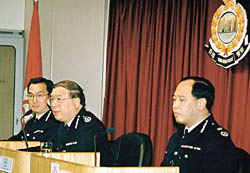 CP Hui Ki-on, flanked by DCP MAN Tsang Yam-pui and DCP OPS Wong Tsan-kwong, reviews 1998's crime situation
DESPITE the Asian financial crisis and the sharp downturn in econmic growth, Hong Kong had fared much better in 1998 from a poliing perspective, the Commis sioner of Police, Hui Ki-on said last week.

Soeaking at a press conference to review the crime situation in 1998, Mr Hui said that although there were slight increases, Hong Kong's crime rate remained considerable lower than thay of many other major cities world-wide.

"Both the total number of overall and violent crimes reported in 1998 saw an increase of 6.8 per ecnt over 1997," the Commissioner noted.
Measured against the rise in population, the overall crime rate and violent crime rate rose by 3.9 per cent and 3.8 per cent respectively.
Highlighting some of the najor crimes, Mr Hui said that robbery reports rose by 7.7 per cent over 1997.
The number of robberies where eigher genuine firearms or pistol-like objects were used declined by 46.2 per cent and 24.2 per cent respectively. While bank robberies rode by 10 cases from 16 in 1997 to 26 in 1998, they have remained at a low level.
The Commissioner of Police noted that although the general increase in crime was notdirectly related to the downtrun in the econmy, certain categories were. 'For example, cased of croiminal intimidation related to debtcollecting malpractice and quick-cash crimes such as pick-pocketing nd snatching are undoubtedly attributable to the econmic situation," Mr Hui said.
There has been an increase of 51.2 per cent (or 331 cases) in criminal intimidation compared with 1997. Of these cases, 41.5 per cent were debt-collection related.
"While accepting that most debt-collection companies employed by reputable institutions usually operate within the law, a number of them work mainly for crominals such as loan sharks and illegal gambling operators to pursue repayment of illegal loans," Mr Hui said.
It was this latter group who resorted to harassment, intimidation and in some cases viloence, amd Police did view this trend seriously, the commissioner stressed.
On shoptheft cases, Mr Hui pointed out that such cases remained almost the same as last year but the incidence of pick-pocketing cases increased by 39.5 per cent. "Increases were also recorded for snatching and miscellaneous thefts at 11 per cent and 11.9 per cent respectively which tend to indicate a return to 'quick-cash' types of petty crime." he said.
Truning to drug trafficking offences, Mr Hui said that a deerease of 23.5 per cent in serious narcotics cases demonstrated a key priority of the Police Force in maintaining strong and effective enforcement actions against drug trafficking and drug abuse.
"Throughout 1998, we continued to enjoy excellent co-operation with the mainland and overseas law enforcement agencies, a factilustrated by a series of successful drug trafficking, kidnapping and counterfeiting cases solved during the year.
"Despite a fall in the quantity of drugs seized in hong King, substantial quantities were recovered in other parts of the world as a result of ioint investigations with overseas counterparts," Mr Hui said.
On public meetings and processions, the Commissioner said: "Police officers continued to police Hong Kong throughout 1998 in exactly the same way as we had always done-fairly, impartiallyand profession-ally. This is evident from the fact that we facilitated more public demonstrations in 1998 than in any other previous year."
Looking ahead, Mr Hui said 74 existing police stations and operational based would be remodelled in the next three years with a budget of $860 million. The improvement is in line with the Government's commitment to upgrading the service provided by the police outlined by the Chief Executive, Mr Tung Chee-hwa, in his 1998 Policy Address when he gave the go-ahead to a far-reaching improvement project for all of the police stations.