Online training to boost Chinese skills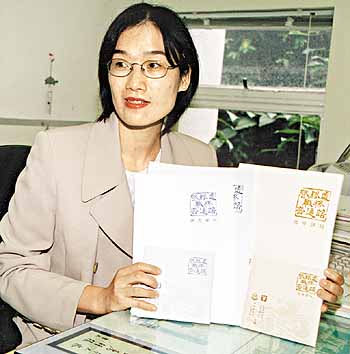 Putonghua promotion: TDB WSIP Constance Chan displays the training materials
An online Chinese Resources Centre has been launched to cater to increasing demands for officers to use characters and Putonghua in their work.
The Training Development Bureau started introducing Chinese and Putonghua training courses in 1998 with the help of the Civil Service Training and Development Institute. Furthering this, the Bureau recently launched the Language Resources Centre on POINT, organised tailor-made Mandarin training courses for individual units and was set to publish Police Putonghua booklets.
TDB Woman Senior Inspector Constance Chan Sin-mei said: "The website gives officers quick access to updated information on Chinese training, standard formats of common Chinese correspondence, a glossary of 19 Government departments, along with Chinese exercises and self-assessment tests. Officers can also learn the differences between some common terms in Cantonese and Putonghua."
"Since we launched the Centre on POINT, tens of thousands of visitors have browsed the pages and the response has been very encouraging. We will regularly update the homepage and introduce more innovative and interactive teaching resources."
To visit the page, officers can simply access the POINT homepage, click the 'Reports & Info' icon and click on 'Language Resources Centre'.
TDB recently worked with Narcotics Bureau and Border District to produce tailor-made Putonghua courses. WSIP Chan said: "Different units have different needs, so we welcome all to contact us to study the possibility of having their own Putonghua courses."
She also invited officers to sign up in late December for a new series of Putonghua elementary courses set to start in February. Course information was available on PEN or from Training and Staff Relations Officers.
TDB would also soon publish two sets of Putonghua booklets, one including all the pinyin of common terms officers come across at work (a related compact disc would also be produced), and the other focusing on Putonghua basics such as the pinyin system, tones and cultural problems of the dialect. The booklets would be distributed to Resource Centres of different formations as supplementary teaching kits.
Putonghua Lunch Sessions started in New Territories South Region, November 7. Some 20 officers, including NTS Deputy Regional Commander Edward Mak Man-poon and Crime Headquarters, Uniform Branch and civilian staff, have been gathering regularly at the NTS Headquarters Officers' Mess to literally eat and speak Putonghua. A professional teacher also attends along with Police Chinese Culture Club Vice-Chairman Helen Kwong Chen-mee.

Topics change each session giving plenty of opportunity to practice the dialect, and pronunciation is assessed and corrected by the teacher. Other activities such as singing and games would also be organised. NTS officers interested in the activities can call their TSRO on 2640-5448/9.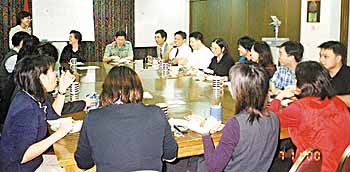 NTS mess Mandarin practise!